Nearly 1,000 Animals Adopted During Clear the Shelters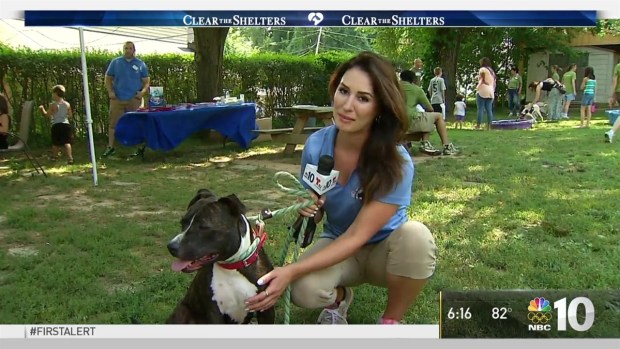 Thousands of pets around the Philadelphia region found new homes thanks to viewers flocking to animal shelters for NBC10's and Telemundo62's Clear the Shelters campaign.
More than 1,000 pets around the region had found homes Saturday alone. The adoption total, including the pets adopted in the days leading up to the event, topped out at over 4,000 animals.
NBC10 Viewers Help #CleartheShelters
Since the campaign launched on July 2, nearly 3,000 cats, dogs, rabbits and other animals had already found homes. A bearded dragon at EASEL Animal Rescue League in Ewing, New Jersey and a chinchilla at Gloucester County Animal Shelter even found loving homes. #ClearTheShelters: Providence Animal Center
Send your #ClearTheShelters selfie with your new friend.
But thousands of cats, dogs and other animals were available for adoption on July 23. Thirty-five shelters in the Philadelphia region agreed to waive all adoption fees for the one day.
At Providence Animal Center in Media, Pennsylvania, they exceeded their goal to adopt more than 100 cats and dogs. Two of those pets were adult cats whose original owner died during an accident while vacationing in France. Justina Calgiano, the PR Director for Providence, told NBC10 friends of the owner, who lived in Philly, tried to find shelters in the city but there was no room. The cats were then moved to Providence where they were able to find a new owner Saturday. Calgiano shared the bittersweet story on Instagram.
Two other pets who were adopted at Providence Saturday were Roscoe and Brownie who were given up when their family moved into low-income housing that didn't accept Brownie's breed. Thanks to Clear the Shelters however, they were also able to find a new home.
The Ocean County Animal Shelter in Jackson, New Jersey adopted out five cats in its first 10 minutes of being opened. More than 70 pets found homes at the Camden County Animal Shelter and the Montgomery County SPCA in Conshohocken even adopted out a guinea pig.
And, thanks to Clear the Shelters, Wet Nose Rescue in Northeast Philly adopted out its handful of dogs and for the first time won't have any animals in foster care, the shelter said.
Here was the list of local shelters participating in Clear the Shelters. #ClearTheShelters: Sheena, Jessica Show Off Adoptable Cats
#ClearTheShelters is a nationwide effort by NBC-owned and Telemundo stations to find pets new homes. More than 400 shelters in 20 states, Washington, D.C. and Puerto Rico will waive or discount fees as part of the one-day adoption drive. The total amount of pets adopted this year already topped 45,000 by Saturday night -- well ahead of the 19,000 pets adopted in 2015.