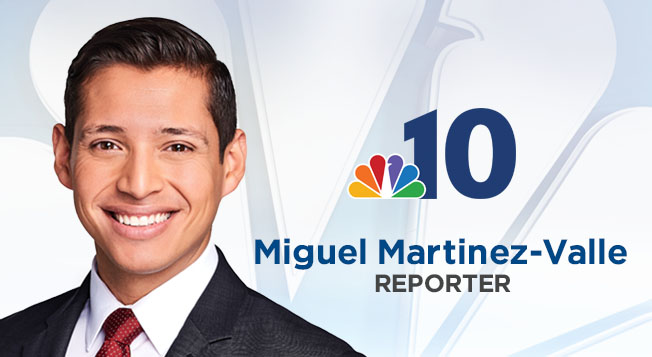 Miguel is a reporter and multimedia journalist for NBC10. You can watch his live reports throughout the day.
Miguel joined NBC10 in December 2017. He is excited to have the opportunity to interact with the people in the Greater Philadelphia Area.
"I am most passionate about getting to know the community and share people's stories," said Miguel.
The most memorable story Miguel covered as a reporter was the tragic shooting in Las Vegas in October of 2017.
"The shooting itself was heartbreaking to cover. However, the aftermath, watching the community pull together to give blood, donate money, and comfort each other was truly inspiring."
Prior to joining NBC10, Miguel spent two years as a reporter and fill-in anchor at KVVU-TV in Las Vegas. Prior to this, he worked as a reporter at Univision Las Vegas / KINC-TV and as a reporter/anchor at HOM-TV, the government access television station in Okemos, Michigan. Martinez-Valle also has experience working in radio as a reporter and producer for WDBM-FM in East Lansing, Michigan.
Miguel earned a bachelor's degree in Journalism from Michigan State University and has been recognized with a Pacific Southwest Emmy® award for his coverage of the 2016 Presidential Debate in Las Vegas. Born in Guaymas, Mexico, Miguel comes from a supportive Mexican family. He is passionate about LGBTQ issues, immigration, and expanding positive minority representation on television.
When Miguel is not on the news, he enjoys traveling, hiking, going to brunch and listening to podcasts.
Connect With Miguel!
Twitter: @MiguelmValle
Facebook: @MiguelMartinezValleOfficial
Instagram: @miguelmvalle