Pamela Osborne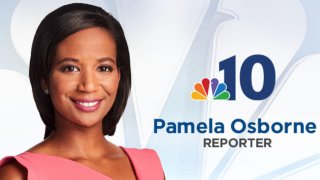 Pamela Osborne is a reporter for NBC10 News. You can watch her live reports weekdays during the morning and afternoon newscasts.
Pamela feels honored to be able to cover the stories that shape people's lives. Her favorite part of reporting is being out in the field, uncovering details and providing people at home with reliable and accurate information.
Her favorite part of covering the Greater Philadelphia area is how exciting a place it is. There is always something happening and something new to explore.
"I love that history is literally at your fingertips in Philadelphia," she said. "I'm a big fan of adventures and there's something new to see and discover at every corner."
A native of Jacksonville, Florida, Pamela joined NBC10 in March of 2016. She got her start as an on- air, multimedia journalist in Toledo, Ohio. She attended the University of Michigan Ann Arbor, where she earned a bachelor's degree in Communication Studies with a minor in African-American Studies.
When Pamela isn't on TV, she enjoys doing yoga, still photography, cooking and traveling.
Connect with Pamela!
Twitter: @PamelaOsborne
Facebook: @Pamela Osborne