Randy Gyllenhaal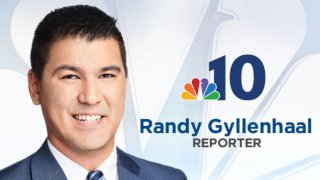 Randy Gyllenhaal is a reporter, multimedia journalist and Lehigh Valley reporter for NBC10 News. You can watch Randy's live reports during the 4 p.m., 5 p.m., and 6 p.m. newscasts.
Randy loves working in news because it gives him the opportunity to have a front row seat to life unfolding.
"I really enjoy sharing interesting, emotional, and incredible stories of everyday people," said Randy. "As we travel through Pennsylvania, New Jersey and Delaware, we meet new folks every single day. They all have a story and I'm glad to be able to help them tell it."
Some of Randy's most memorable reporting includes Pope Francis's historic visit to Philadelphia and riding along on the U.S. Coast Guard Cutter Hamilton, a 418-foot vessel that patrols the waters in the Caribbean to battle the drug trade. The Cutter is commanded by a captain who grew up in Philadelphia.
Randy graduated from Elon University with a bachelor's degree in Journalism. He worked as an intern for ABC World News in Washington D.C. Randy then went on to work as a reporter for WPBG in West Palm Beach, Florida, and WPTZ in Burlington, Vermont.
When Randy is not reporting, he likes exploring new technology, hiking, and being a photographer.
Connect with Randy!
Twitter: @RandyGyllenhaal
Facebook: @RandyGyllenhaalReports
Instagram: @randygyllenhaal