UPDATE: The POPS on Independence Concert at Independence Mall as well as The Brews & Views event at the Free Library have been canceled tonight due to weather.
---
Food, fun and history all in one place on July 3rd at Wawa Welcome America. Here's the breakdown:
Sand Sculpture Spectacular
Location: Shops at Liberty Place
Time: 9:30 a.m. - 7 p.m.
World-renowned sculptors will create a 40-ton sand sculpture spectacular with hand-carved scenes commemorating the 100th anniversary of the Benjamin Franklin Parkway.
Get and up-close look at last year's sculpture here.
Pay What You Wish at Rodin Museum
Location: Rodin Museum — Benjamin Franklin Parkway
Time: 10 a.m. - 5 p.m.
Free Museum Day at National Liberty Museum
Location: The National Liberty Museum — Old City
Time: 10 a.m. - 6 p.m.
PHL Airport Photo Exhibit
Philadelphia Eagles: 2018 World Champions
Location: Philadelphia International Airport - Terminal A East
Time: 11 a.m. - 2 p.m.
This photo exhibition celebrates the Philadelphia Eagles 2018 World Championship victory with highlights of past championship teams and Eagles Hall of Famers. Note: You must have an airline ticket to see this exhibit.
NBC10 First Alert Weather: Wawa Welcome America Events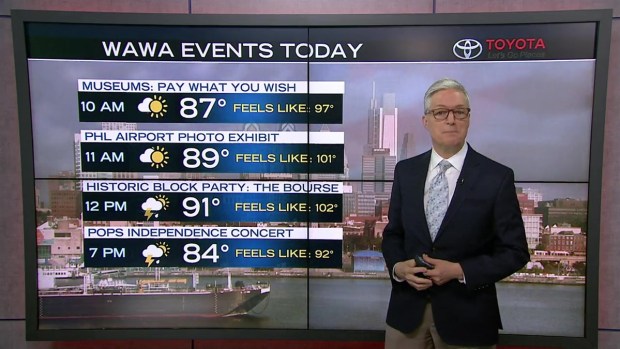 Philadelphia's Historic District Block Party
Celebrating The Bourse at Independence Mall
Location: Independence Mall
Time: Noon - 7 p.m.
Philly loves a block party and this year's edition highlights the City of Brotherly Love's signature music, art, entertainment, history, culture and food. A Kids' Stage and Kids' Zone for family-friendly entertainment, dozens of food trucks, pop-up performers and other activities make this an all-ages favorite. Behind-the-scenes tours of the renovated The Bourse Building and a lively beer garden for the over 21 set will celebrate the upcoming re-opening of one of the city's beloved institutions which will feature a new food hall, artisans and other services. The event ends with the rousing POPS on Independence concert.

---
>> Check out Wednesday's events >>