Harry Hairston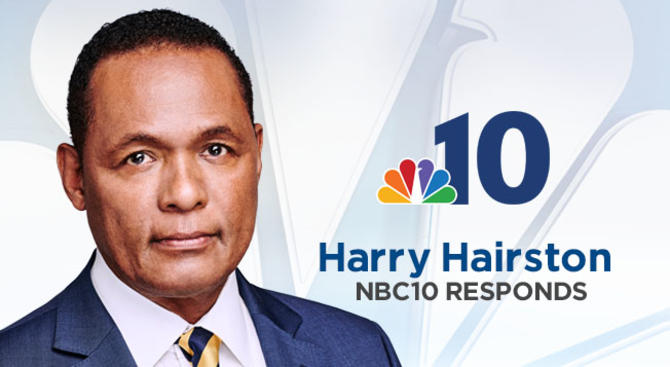 Harry Hairston is a Senior Investigative reporter for NBC10 News. You can watch Harry's live newscasts weekdays during the 5 p.m. news.
Harry's passion is to be the voice for those who feel that they aren't being heard. His work with NBC10 Responds has helped viewers with consumer issues get back more than a million dollars.
Harry has received multiple Mid-Atlantic Emmy® awards for his work at NBC10. In 2015, he was first in the nation to report aggravated indecent sexual assault charges filed against Actor/Comedian Bill Cosby. Ten years earlier, Hairston was the first in the nation to report on the sexual allegations that later led to Cosby's charges. Hairston's reporting has also heavily influenced and helped strengthen New Jersey's anti-swatting laws. In 2013 he received a Mid-Atlantic Emmy® award for his investigative series uncovering candy drop box scammers. His exclusive reports led to two men being arrested and convicted for their crimes. His reporting lead to stronger accountability processes within City Hall after he exposed how Philadelphia officials could not account for $21 million in missing items purchased with taxpayers' money.
In 2012, Harry received a Mid-Atlantic Emmy® for his exclusive jailhouse interview with Rabbi Fred Neulander inside New Jersey's maximum security state prison. He was the only reporter, locally or nationally, to interview the Rabbi, who was serving time for the 1994 murder of his wife.
He received another Emmy in 2012 for his exclusive report on a New Jersey school teacher who bullied a special needs student in class. The report led to the firing of the teacher and garnered national and international attention.
In 2011, he was named Journalist of the Year by the Philadelphia Association of Black Journalists, and in 2008 he garnered a Mid-Atlantic Emmy® for Best General Assignment Reporter. Some of Harry's other notable stories include elaborate internet romance scams and the uncovering of a 'cell phone jammer' travelling on Philadelphia commuter buses who was deliberately jamming other commuters' phones. The story was picked up nationally by major networks and was reported on websites The Daily Beast and Huffington Post.
A native of Pittsburgh, Pennsylvania, Harry holds a bachelor's degree from Gannon College in Erie, Pennsylvania. Harry participates in many community causes such as heart disease, cancer research, mental health research and education, diversity and community improvement. Harry also supports the dedication of first responders. His hobbies include playing golf, tennis and motorcycle riding.
Connect with Harry!
Twitter: @HarryHairston
Facebook: @HarryHairstonNBC