Leah Uko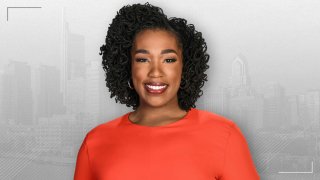 Leah Uko is a general assignment reporter for NBC10. She joined the station in March 2022. You can watch her reports weekday and Sunday evenings on NBC10.
Leah is most passionate about normalizing diverse coverage. She enjoys putting stories on the air that are, in certain communities, common in real life, but rarely broadcasted to everyone.
"I believe showcasing taboos and topics mistakenly deemed uncommon bridges gaps between people from different walks of life," she said. "It enlightens and inspires us and sometimes can awaken interests we were not aware we had."
Leah comes to NBC10 from Charleston, South Carolina, where she was a morning anchor at WCIV-TV. Prior to that, she was a general assignment reporter and weathercaster at KTTV in Los Angeles. She has also covered news at WLTZ in Columbus, Georgia; KARK in Little Rock, Arkansas; KPTM in Omaha, Nebraska and KAGS in Bryan/College Station, Texas.
Among Leah's most notable stories covered was her Emmy-nominated coverage of the life, then death of rapper Nipsey Hussle. The feature piece told viewers about his life that involved gangs, later rapping and eventually philanthropy and entrepreneurship.
Leah earned a bachelor's degree in Interdisciplinary Studies and a minor in Journalism from the University of California, Riverside. She is a proud member of Sigma Gamma Rho, Sorority, Inc., and the National Association of Black Journalists.
In her free time, Leah enjoys resting, weightlifting, watching movies and exploring neighborhoods in the Philadelphia area. She is a competitive figure bodybuilder with the National Physique Committee (NPC). Leah is a devoted wife and lover of plants.
Connect with Leah!
Twitter: @LeahUko
Facebook: @leahukonew
Instagram: @leahuko