Get the latest updates on the storm's aftermath, including power outages and overnight freezing here.

The second nor'easter in less than a week inundated the Philadelphia region with heavy snow and even lightning and claps of thunder in some spots Wednesday.
Road conditions quickly deteriorated around midday as the storm intensified as forecasted sending a wall of snow sweeping west to east. Some drivers spent three hours on I-76 in Conshohocken after a tractor-trailer jackknifed in the storm.
New Jersey State Police say they responded to 356 car crashes and 462 motorist aids since midnight.
The nor'easter began to spin out of the region just before 5 p.m. leaving behind nearly a foot of snow piled up in some neighborhoods. But in other towns, snowfall was minimal. The wide disparity was expected as the storm moved north along the coast, throwing the most intense snowfall into the Philadelphia suburbs.

This type of storm is always changing so here's the newest information from the NBC10 First Alert Weather Center:
The storm is almost completely gone. Parts of South Jersey are the only areas still seeing snow.

Road conditions remain a mess as the heavy snow has proven difficult for crews to keep up.
Power outages have skyrocketed as the heavy snow has weighed down power lines and trees weakened by Friday's storm.

Lightning strikes brought rare thundersnow to parts of South Jersey.
Temperatures will remain below freezing so there will not be a lot of melting. Sidewalks, bridges, and roads can remain slick overnight.

The height of the storm began to hit in the early afternoon with heavy, wet snow blanketing roads and sidewalks and making for dangerous travel. Visibility in Philadelphia quickly dropped to a half mile.

"It only gets heavier from this point on," NBC10 First Alert Weather meteorologist Steve Sosna said.
A First Alert remains in effect through 7 a.m. Thursday as the region deals with slippery roads and the possibility of downed tree limbs and power lines.
Temperatures will be near freezing. The wet snow will be a true chore to remove. Those with heart conditions or bad backs should avoid shoveling the so-called "heart attack snow." You should also check on your neighbors.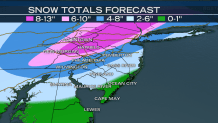 [NATL] The Worst Northeast Snowstorms of the Last 25 Years
Public Transit Changes
SEPTA changed its Regional Rail schedules for Wednesday and Amtrak modified its Northeast Corridor service.
Closures & States of Emergency
Local
Breaking news and the stories that matter to your neighborhood.
Hundreds of businesses closed, telling people to stay home. People appeared to heed warnings as traffic was significantly less than a normal Wednesday.
Plenty of area attractions and museums closed due to the inclement weather.
Pennsylvania Gov. Tom Wolf declared a State of Emergency for many eastern counties, including Berks, Bucks, Chester, Delaware, Lehigh and Philadelphia. New Jersey Gov. Phil Murphy declared a State of Emergency for all of New Jersey.
"If you really don't have to travel, don't," Wolf said.

The focus of the emergency is northern New Jersey but Murphy wants all residents to be prepared with tips from the Office of Emergency Management (NJOEM) and asked drivers to stay off roads. The declaration allows NJOEM to employ resources and police to needed areas (NJOEM has more on what it means to you). NJOEM closed all state offices for Wednesday.
Many municipalities declared snow emergencies. In Philadelphia, that meant no trash pickup Wednesday and cars had to be moved from snow emergency routes. Check with your specific town for what it may mean for you.

Speed Restrictions
Speed limits on many area highways were lowered. Restrictions were later lifted however on I-76 and 276, the mainline East-West turnpike between Harrisburg East and the Mid-County Interchange, Interstate 476, and the entire Northeast Extension, Interstate 476. For real time information on Pennsylvania's roads, check out 511Pa.com.
Got a Flight?
If you are planning to fly out of Philadelphia Wednesday or Thursday, check with your airline because some airlines have canceled flights. Other flights were taking off after de-icing. Airlines issued travel waivers allowing travelers to re-book without penalty.

No School
Concerned about the well-being of students and staff, the Philadelphia School District and Archdiocese of Philadelphia canceled school Wednesday but will open on a two-hour delay Thursday. Check here for school closings across the area.
Power Problems
Power outages are a big concern due to a combination of the heavy, wet snow as well as 25 to 35 mph winds and gusts up to 40 mph that could bring down tree branches and power lines, creating more power outages.
PECO had the majority of area outages. As of 7:30 p.m. Wednesday, more than 179,000 power outages were reported throughout the region.

Some of those outages are left over from Friday's nor'easter. PECO says their priority is to get people who have been in the dark longest online first.

Don't get left in the dark. Rely on the FREE NBC10 app for instant updates and breaking news. Download here.
Still Reeling
This new storm came less than a week after a storm packing winds of 60-plus mph knocked out power to more than half a million customers in Pennsylvania, New Jersey and Delaware. That powerful winter storm stunned commuters during the Friday afternoon rush hour, as colder-than-expected temperatures caused unexpectedly sloppy road conditions. The slippery surfaces combined with many falling trees to create gridlock seemingly everywhere for hours.
A Look Inside: Philly Is in Bloom at 2018 Philadelphia Flower Show