A brawl at Pat's King of Steaks in South Philadelphia led to a New York man being beaten to death Thursday morning.
Isidro Cortés, 28, of Queens, New York, was visiting the Philadelphia area with a group of friends and family members on Wednesday.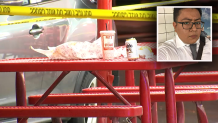 The group attended a soccer game between the Philadelphia Union and Club America at the Union's home stadium in Chester, Pennsylvania, Wednesday night.
After the game, the group went to Pat's Steaks at 1237 E. Passyunk Ave. in South Philly early Thursday morning, around 2 a.m.
Police said Cortés, his 64-year-old father and a friend began arguing with a group of at least four men who were wearing yellow Club America soccer jerseys. The group of four men then attacked Cortez and his family, according to police.
"It was normal," Eduardo Rangel, Cortés' family member, said. "They were just talking about soccer and we decided to order the food. Meanwhile, he was talking. And when we went back we started eating and I just noticed that they started throwing punches at him. And we tried to defend him but there were too many. There were like around 12 people."
Local
Breaking news and the stories that matter to your neighborhood.
At some point, one of the men beat Cortés in the head and face, police said. Philadelphia Police Chief Inspector Scott Small told NBC10 that some of the other men kicked and punched Cortez when he was down. Police also said a garbage can lid was used during the brawl.
Police got the call about separate fights at Pat's Steaks around 1:56 a.m. When they arrived around 10 minutes later, they found Cortés unresponsive. He was later pronounced dead.
"It's tragic. I don't know how to tell his mother," Rangel told NBC10.
Cortés' father and a 20-year-old man were also injured in the fight. They were taken by paramedics to Thomas Jefferson University Hospital, where they were in stable condition after suffering trauma to the face, Small added.
Detectives were looking over surveillance video, and witnesses said they saw some men packing into a mid-size, light-colored SUV before taking off northbound on Passyunk Avenue.
Police said all four suspects are men in their 20's who were wearing yellow soccer jerseys with "Club America" written across them.
The cheesesteak shop, a popular local and tourist hangout, is the same location where a fight between a Philadelphia Eagles fan and a New York Giants fan led to a deadly shooting in July.
If you have any information on Thursday's incident, please call the Philadelphia Police Homicide Unit at 215-686-3334 or leave an anonymous tip at 215-686-TIPS.