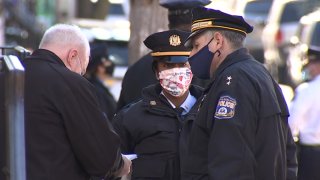 UPDATE: The girl's father now faces charges. New details here.
A 9-year-old girl died after her 5-year-old cousin accidentally shot her in the head shortly before noon Wednesday in North Philadelphia, authorities said.
The girl suffered a gunshot to the right temple and was rushed to St. Christopher's Hospital for Children around 11 a.m., where she was pronounced dead around 1:50 p.m., police said. She, her 5-year-old cousin and her brother had been left alone in the home on the 2300 block of N. Bouvier Street, Philadelphia Police Department Cpl. Jasmine Reilly said.
When police responded, it was the second child who met them at the door and told officers the girl had been shot, Reilly said.
District Attorney Larry Krasner said several weapons were found inside and called the shooting "unacceptable."
"It is part of a bigger situation. We've got too many guns. They are not secured safely in many situations, even when they're out there, and we've had enough," Krasner said.
No arrests were immediately reported.
Local
Breaking news and the stories that matter to your neighborhood.
Correction: This story has been updated with new information from police, who originally said the 9-year-old shot herself.