The father of a 9-year-old girl who died after she was accidentally shot by her 5-year-old cousin inside a North Philadelphia home now faces charges.
Blake Davis, 39, was arrested and charged with involuntary manslaughter, endangering the welfare of a child, corruption of minors and other related offenses.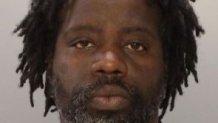 Philadelphia police responded to a home on the 2300 block of N. Bouvier Street Wednesday morning where they found Davis' 9-year-old daughter suffering from a gunshot wound.
At the time, the girl, her brother and cousin, all minors, were inside the home with no adult supervision, investigators said. The girl's cousin, who is 5-years-old, accidentally shot her, police told NBC10.
When police arrived it was another child who met them at the door and told officers the girl had been shot, according to Philadelphia Police Department Cpl. Jasmine Reilly.
The girl was rushed to St. Christopher's Hospital for Children around 11 a.m. and was pronounced dead around 1:50 p.m.
Local
Breaking news and the stories that matter to your neighborhood.
Krasner said several weapons were found inside the home and called the shooting "unacceptable."
"I offer my deepest condolences to the Davis family for the terrible loss of a beloved child," Krasner wrote "This tragedy was 100% preventable. Kids should not be allowed unsupervised access to firearms, period. We can hold both that a father has suffered a horrific tragedy, and that he is also criminally responsible for this loss."
"As a community, we must also come together to ensure that the two other children found in this residence are able to heal and grow beyond the trauma inflicted on them," Krasner added.
Roz Pichardo of Operation Save Our City told NBC10 the girl's death could've been prevented if the weapons inside had been locked. She handed out more than 200 gun locks to neighborhood residents on Thursday.
"There are kids right now who are not in school who are extremely curious," she said. "I'm really urging parents, if you have a firearm, to secure it and make sure that this doesn't have to happen to another parent and a parent doesn't have to mourn the loss of their child."
Krasner also placed blame on the Pennsylvania General Assembly and U.S. Congress.
"Being prohibited from legal purchase of firearms, as Davis was, means little when illegal guns are so cheap and plentiful," he wrote. "That is on a Pennsylvania General Assembly and U.S. Congress that has failed to act despite the loss of so many children to gun violence. I am hopeful we will see bold new gun regulations under the Biden Administration that finally rein in the corrupt and bloodthirsty NRA."
Residents can also request free gun locks through the Temple Safety Net website.
There are additional resources for people or communities that have endured gun violence in Philadelphia. Further information can be found here.