Click here for Thursday details on the storm.
---
The first major winter storm of the season could blanket parts of the area with more than a foot of snow and bring high winds and coastal flooding to the shore.
Right now, the latest NBC10 First Alert Weather forecasting computer models show the storm moving into the region late Friday and lasting through at least Saturday night. The brunt of the storm will come overnight Saturday. Snow should lighten up by Saturday afternoon.
Snow totals could vary between more than a foot to a few inches. Here's the breakdown about 48 hours away:
14+ inches: Northern Delaware; Chester County; and part of Delaware County
10+ inches: Philadelphia; Camden city; Trenton; upper Delaware County; lower Montgomery and Bucks counties; and Central Delaware
8+ inches: Lehigh Valley; upper Bucks and Montgomery counties; and Gloucester, Camden, Burlington, Salem and Cumberland counties in South Jersey
6+ inches: Jersey Shore (Significant coastal flooding expected); and Southern Delaware
5+ inches: The Poconos
Timing
Friday
10 p.m. to 11 p.m. - Snow moves in to South Jersey and Delaware

Saturday
Midnight to 4 a.m. - Snow moves in to Philly and the North and West suburbs
4 a.m. to 8 a.m. - Widespread snow across the region
8 a.m. to 2 p.m. - Snow continues
2 p.m. to Saturday night - Snow tapers off
Flooding at the Shore
Besides the snow there is also a concern at the Jersey Shore due to the combination of a high tide, full moon, a wintry mix and onshore wind gusts of up to 60 mph.
High Tide Times for Jersey Shore and Coastal Delaware

Saturday: 6:30 a.m. to 8 a.m.
Saturday: 7 p.m. to 8:30 p.m.
Sunday: 7:15 a.m. to 8:45 a.m.
Suburbs Stocking Up on Salt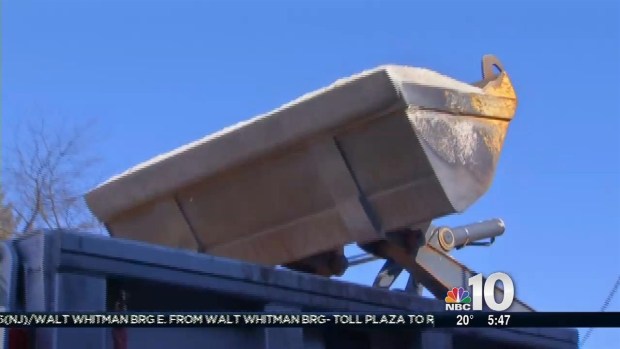 If you live at the Shore or have property there, you should be taking precautions now to minimize damage from coastal flooding. Delaware up to about Kitts Hummock could see flooding from the bay as well.
"What we do know, though, is that we will be impacted Friday night into Saturday as well as Saturday night," said NBC10 First Alert Weather meteorologist Karen Thomas.
Other Things to Know
Wind is going to be a component to this storm. There's a blizzard watch just one county over the Delaware/Maryland border.
Blizzards have defined wind, snow and visibility requirements we don't quite think we'll hit here. Nevertheless, we're looking at sustained winds of 30-40 MPH with gusts to around 50.
That kind of wind could cause power outages, especially if there's heavy wet snow. Even if we dodge the snow-to-rain changeover bullet, there will be several warmer hours during the storm where we could see gloppy, heavy big flake snow.
Toward the end of the storm, temps will fall again and snow will get lighter and fluffier. You're going to want to get on that wet snow early before it gets buried and freezes solid. It will be much harder to shovel after that.
Once the snow moves out, wind will stick around while the region possibly digs out Sunday.
The lesson here … stay tuned and check in with the NBC10 First Alert Weather Team on air and on NBC10.com as the storm approaches.