A major snowstorm -- with blizzard conditions and storm surges on par with Superstorm Sandy -- is coming, so now is the time to get ready.
Windy & Wet: Estimated Snow Totals, Timeline
The NBC10 First Alert Weather Team issued a First Alert Weather Warning for Friday night into early Sunday as the storm could drop more than one foot of snow on parts of the Philadelphia region and at least 10 inches on much of the area.
Pennsylvania Gov. Tom Wolf declared a state of emergency soon after the National Weather Service declared a Blizzard Warning for Philadelphia, the immediate suburbs, Wilmington and most of South Jersey from 7 p.m. Friday through 10 a.m. Sunday. Travelers Urged to Check Ahead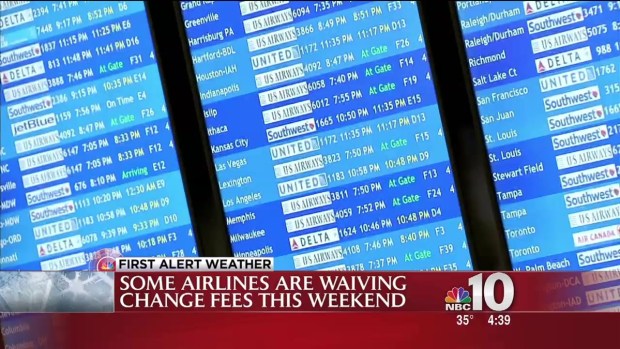 The winter storm is heading our way and Philadelphia International Airport is preparing for the changes this means for flights coming into Philadelphia, along with leaving Philadelphia. NBC10's Keith Jones reports with more on how the weather can effect traveler's plans. (Published Friday, Jan. 22, 2016)

The key to how much snow some areas see could be where the snow/rain line winds up -- does it get to Philly and Wilmington?
The latest NBC10 First Alert Weather forecasting computer models show the storm moving into the region late Friday and lasting into early Sunday. The brunt of the storm should come Saturday making travel difficult, if not possible, said NBC10 First Alert Weather meteorologist Bill Henley.
"If you don't have to go somewhere, you shouldn't be going anywhere," said Henley. NBC10's First Alert Weather Meteorologist Prepare for Incoming Snow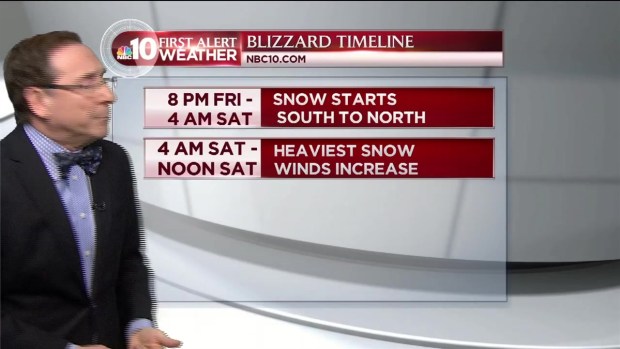 With the snow storm coming closer to the region the NBC10's First Alert Weather Meteorologist are tracking when the storm is coming, along with how much snow to expect in all the local regions. (Published Thursday, Jan. 21, 2016)
Estimated Totals
Snow totals could vary from a few inches to more than one foot of snow. Glenn sums it up:
Windy & Wet: Estimated Snow Totals, Timeline
"I think 10+ inches is going to cover most of the area," said Glenn.
14+ Inches: Wilmington; northern Delaware; Chester County; and western South Jersey
10+ inches: Philadelphia; I-95 Corridor, Camden city; Trenton; northern and western suburbs; South Jersey closest to Philly; and central Delaware
6+ inches: The Poconos, Lehigh Valley, higher elevations; and southern Delaware
4+ inches: Jersey Shore (significant coastal flooding expected); and southernmost Delaware
"The real questions are at the edges -- up toward the Poconos and Lehigh Valley -- will the snow be heavy enough? And right down the shore, how much (snow) is going to be mixed in with rain," said Glenn.
The NBC10 First Alert Weather Team will be refining and updating predictions as more information becomes available.
Timing
Friday
8 p.m. to midnight - Snow starts south to north

Saturday
Midnight to 4 a.m. - Snow continues to spread
4 a.m. to noon - Heaviest snow, winds increase.
Noon to 8 p.m. - Snow inland (mixing with rain south and east) with possible blizzard conditions.
8 p.m. to early Sunday - Snow tapers off, very windy.
Getting Ready
Mike Dunn, deputy communications director for Philadelphia Mayor Jim Kenney, said city trucks started treating some streets Wednesday night.
"At this point, it is all about being prepared," he said.
PennDOT mechanics were busy making sure trucks were cleaned and in good repair so all equipment is ready to go whenever the snow starts falling, spokesman Gene Blaum said.
"We've used virtually no salt," so far this season, he said. "But winter isn't over." Philly Preps for Storm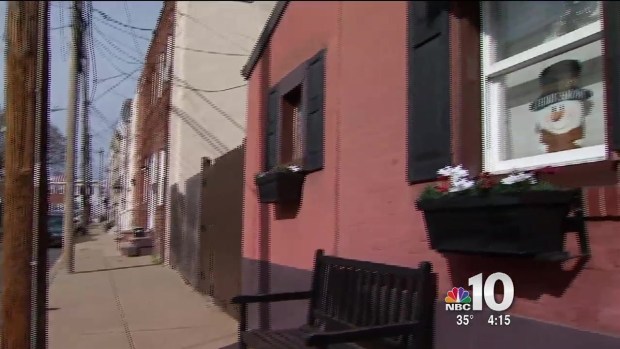 Mayor Jim Kenney addresses questions about the incoming snowstorm, but a big concern for Philadelphia residents, is if there is a better plan on how to clear narrow streets in the city. NBC10's Lauren Mayk reports after speaking to the Streets Commissioner. (Published Thursday, Jan. 21, 2016)
Flooding at the Shore
Besides the snow, there is also a concern at the Jersey Shore due to the combination of a high tide, full moon, a wintry mix and onshore wind gusts up to 60 mph. The storm surge could be the worst since Superstorm Sandy.
High Tide Times for Jersey Shore and Coastal Delaware

Saturday: 6:30 a.m. to 8 a.m.
Saturday: 7 p.m. to 8:30 p.m.
Sunday: 7:15 a.m. to 8:45 a.m. (this could be the worst tide when it comes to flooding.)
Hide Tides Cause Flooding Concerns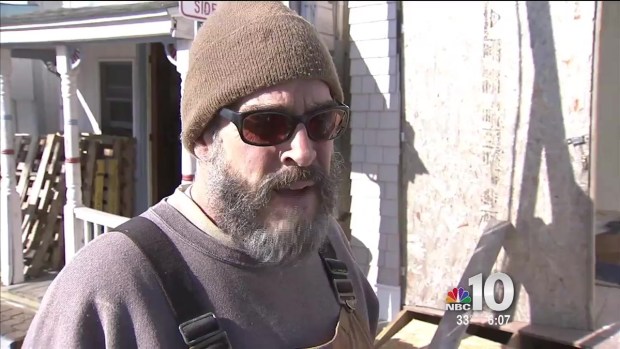 Officials at the Jersey shore are urging residents at the shore to get ready for three rounds of high tides and a lot of people are not waiting to prepare for that. NBC10's Ted Greenberg reports after talking to residents and businesses about how they are preparing for the high tides to come. (Published Thursday, Jan. 21, 2016)
If you live at the Shore or have property there, you should be taking precautions now to minimize damage from coastal flooding. Flooding from the bay could also impact parts of Kent and Sussex counties in Delaware. Snow Supplies Fly Off Delaware Store Shelves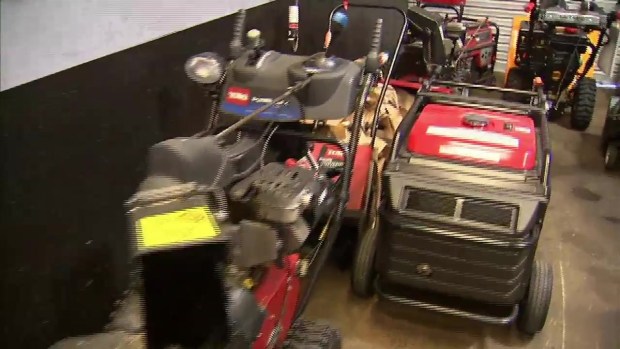 Many businesses are trying to make sure New Castle County residents are ready to clear their driveway and sidewalks, since they are going to be getting some of the highest snow totals. NBC10's Tim Furlong reports after talking to workers about how their supplies are flying off the shelves as the storm approaches. (Published Friday, Jan. 22, 2016)
Wind Worries
Wind is going to be a component to this storm. Blizzards have defined wind (35+ mph), snow and visibility of a 1/4 mile or less. A watch means it could possibly happen in the Philadelphia region.
That kind of wind could cause power outages, especially if there's heavy wet snow. Even if we dodge the snow-to-rain changeover bullet, there will be several warmer hours during the storm where we could see gloppy, heavy big flake snow. NJ Grocery Stores Stock Up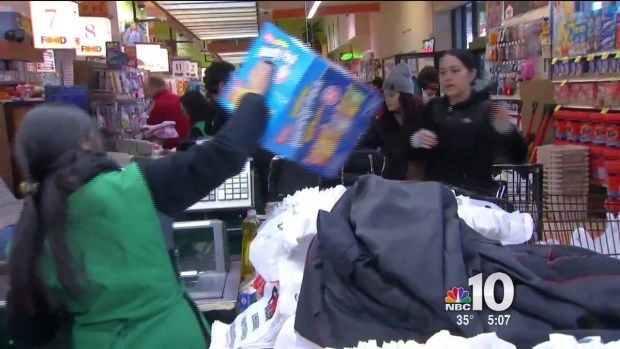 People are stocking up now so they don't have to leave their homes once the snow starts, and one Trenton grocery store is preparing to stay open even during the storm. NBC10's Doug Shimell reports after talking to shoppers and workers about how they are preparing for the snowstorm. (Published Thursday, Jan. 21, 2016)
"The type of snow might be different at different times during the storm," said Glenn.
Toward the end of the storm, temps will fall again and snow will get lighter and fluffier. You're going to want to get on that wet snow early before it gets buried and freezes solid. It will be much harder to shovel after that.
"This is one you're going to want to get ahead of and clear as much as you can on Sunday because it's going to freeze solid on Monday morning," said Bill.
The lesson here … stay tuned and check in with the NBC10 First Alert Weather Team on air and on NBC10.com as the storm approaches.
Published at 6:03 AM EST on Jan 21, 2016 | Updated at 6:06 AM EST on Feb 12, 2016