UPDATE: We are no longer updating this story. Get the latest update on the forecast here.
What to Know
A multifaceted nor'easter began to drop snow from Philadelphia to the suburbs to the Lehigh Valley Wednesday afternoon.
The NBC10 First Alert Weather Team has issued a First Alert for the entire region into Thursday morning. Heavy snow, heavy rain, strong winds and flooding pose threats depending on where you are in the region.
States of emergency have been declared in Pennsylvania and New Jersey. Dozens of schools dismissed early Wednesday.
Sleet and rain are creating a mess on roads throughout the area after heavy snow slammed the region on Wednesday.
From the Lehigh Valley to the Jersey Shore and in between, a multifaceted winter storm that arrived Wednesday afternoon had very different impacts as it roared through the Philadelphia region.
Philadelphia got 5 to 6 inches of snow while parts of Montgomery County saw between 6 and 7 inches.
While the snow has mostly ended, a First Alert remains in effect until 10 a.m. Thursday due to sleet, freezing rain, strong winds and the threat of coastal flooding at the Jersey Shore. The wet snow combined with the winds could also knock out power.
Drivers should stay off the road Wednesday night and early Thursday morning due to icy conditions.
Snow began falling Wednesday afternoon and grew heavier as the day went on. By the early evening, the snow began turning into sleet and rain.
Estimated snow totals
Now, here's the expected snow totals, but remember that these are cumulative totals over the course of the storm (meaning sleet or rain could dampen what you actually see by the time the storm is over.)
The farther you are from the coast, the more snow you should expect. The Lehigh Valley is expected to get plowable snow while barely no snow is expected to fall along the southernmost Jersey Shore. Notice how the estimated snow totals jump from only a couple inches just south of Philadelphia to 6 to 10 inches just north of the city. A tight range is indicative of the tricky forecast of the rain-snow line and the impacts of sleet and freezing rain to totals.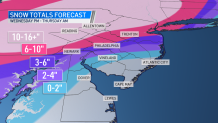 The first flakes began falling Wednesday in Reading, Berks County, shortly after noon and within an hour snow was coating untreated surfaces. Flakes were falling in Philadelphia, the suburbs, northern Delaware and parts of South Jersey by 2 p.m. as visibilities quickly diminished and temps were mostly below freezing.
The storm's peak began Wednesday early evening with heavy snow fall that later turned to a wintry mix of sleet, freezing rain and finally rain in Philadelphia and the I-95 Corridor.
The rain-snow line will shift southward again Thursday morning, bringing one more round of snow showers to Philadelphia before the system exits around 9 a.m. Winds will also play a major factor, topping 40 to 50 mph gusts inland, which may cause power outages and damage.
Below are impacts for each of our neighborhoods from this storm. This is an evolving situation as a slight change in track could mean major adjustments to snow totals, wind speeds, etc. Changes in track are completely normal and to be expected with storms like this one.
Berks County, Lehigh Valley, Distant Pennsylvania Suburbs (Upper Bucks, Montgomery and Chester counties)
Heavy snow fell in Berks and Lehigh counties as well as the Pennsylvania suburbs. There will be some blowing and drifting of snow as gusts may reach up to 40 mph. These aren't the strongest gusts of the region, but they're powerful enough coupled with the snow to cause power outages or damage.
Road conditions will remain poor until late Thursday morning.
Immediate Suburbs (upper Delaware and most of Bucks, Chester, Montgomery and Mercer (NJ) counties)
Heavy snow fell in the immediate suburbs before turning into a wintry mix of sleet and freezing rain. Due to the mix of sleet and freezing rain, totals are a bit more variable, but amounts between 6 to 10 inches are expected. Gusts may top off at 45 mph, again bringing the threat for damage.
However, a slight shift in the storm track north or south would dramatically change the amount of snow for these neighborhoods and other areas to the south.
Philadelphia, northernmost Delaware, most of Delaware County and parts of South Jersey
The storm brought heavy snow initially, before turning to sleet and ultimately rain overnight. Thanks to the ice and rain, the snow is compacted. Three to 6 inches of snow has been recorded so far.
Expect slick roads overnight into early Thursday as there could be some freezing. Wind gusts of 40 to 50 mph could bring down limbs and power lines.
Interior South Jersey to northern Delaware
The most inland portions of South Jersey and Delaware saw steady to heavy snow at the start of the storm Wednesday afternoon and evening before the area turned over to sleet and then a heavy rain. Even thunderstorms are possible Wednesday night.
Winds will gust 40 to 50 mph, so damage and flooding is possible with the heavy rainfall. Snow totals may get as high as 4 inches inland, but most of South Jersey sees lower totals.
Jersey Shore and Delaware Beaches
Heavy, windswept rain hit the shore communities. Up to 2 inches of rain is possible with localized areas of street and highway flooding. Wind gusts of 50 to 60 mph are possible with power outages and localized wind damage.
The rain could briefly change to snow early Thursday morning before ending. Little to no accumulation is expected.
Heavy rainfall may combine with tidal inundation during high tide to cause coastal flooding. There is a minor to moderate risk for coastal flooding into Thursday.
We haven't seen a storm like this in years
We aren't used to snow as the last time Philadelphia last saw at least 1 inch of accumulation was more than 650 days ago and it's been around 1,000 days since the Lehigh Valley last had a foot or more of snow.
We aren't used to snow on roads so be careful if you have to drive and stay home if you don't. If you do go out, make sure you have an ice scraper and fully charged phone.
Gov. Tom Wolf declared a state of emergency for Pennsylvania ahead of the storm. On Wednesday morning, Gov. Phil Murphy announced a state of emergency for New Jersey starting at 2 p.m. State offices will also close early Wednesday.
"We urge all New Jerseyans to stay off the roads, stay at home, and stay safe," Murphy said.
In Delaware, Gov. John Carney said the state's Emergency Management Agency was monitoring the storm.
The Philadelphia School District announced all school buildings are closed on Wednesday and Thursday. However, since all classes are being held virtually, there won't be any change to class schedules.
Dozens of schools posted changes to normal plans in the NBC10 School Closings section.
Be sure to charge up all your devices since power outages are a concern with the heavy snow and strong winds.
What the storm means to public transit
NJ Jersey Transit on Wednesday adjusted its schedules. Trains are operating on a Level 2 severe weather schedule. Passengers should expect "delays, detours and potential cancellations if storm conditions intensify," NJ Transit said.
Buses, light rail and Access Link will operate on a regular weekday schedule for as long as weather and road conditions allow.
SEPTA said changes to its service depends on conditions. Click here for the latest.
You can also track PennDOT trucks on the 511PA website.
Keep up with the storm by downloading the NBC10 app now for the latest First Alert Weather forecasts.