New video shows a barrage of bullets in North Philadelphia Monday after a man allegedly opened fire at police officers and nearly struck a teen girl in a nearby home.
Police say they responded to a radio call reporting a man who was under the influence of drugs and armed with a gun on the 2200 block of N. Fairhill Street in North Philadelphia shortly before 5 p.m. Monday.
When the officers arrived they approached a man later identified by investigators as Jose Gonzales, 30, of Camden, New Jersey. Police say Gonzales was armed with a handgun and attempted to enter a 2004 Chevrolet Monte Carlo.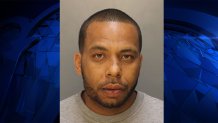 Police say they ordered Gonzales to drop his weapon but he allegedly refused and fired two shots at the officers. In cellphone video obtained by NBC10, you can hear the officers telling Gonzales to drop his weapon moments before the shooting begins.
The officers returned fire and struck Gonzales in the torso and legs. The video shows the officers standing around Gonzales in the street after the shooting. Gonzales was then taken to Temple University Hospital where he is currently in critical condition.
Police say they found Gonzales' gun which was loaded with eight rounds in the magazine and one fired cartridge casing in the chamber. They also found a second 9mm FCC in the street.
The Monte Carlo Gonzales was trying to enter prior to the shooting was reported stolen in a gunpoint carjacking in Camden County, New Jersey around 2 p.m., according to investigators. Police say Gonzales matched the description of the suspect in the carjacking. Charges against Gonzales are pending.

Local
Breaking news and the stories that matter to your neighborhood.
None of the officers were injured during the incident.
Stray bullets during the shooting struck the nearby home of Natasha Doheny, who was inside with her four children. One of the bullets struck the side of her house, two struck the second floor and one entered her window and flew over her daughter's head.
"I was in my mom's room when the bullet came flying in the room," Doheny's daughter, Sierra Harris, told NBC10.
Doheny says the bullet ricocheted and a round brushed the back of her daughter's head.
"It went through the window and into the ceiling and the shell fell above her head," Doheny said.
Harris wasn't hurt though she and her mother remain shaken by the close call.
"It's scary," Harris said. "You never know what's going to happen."