What to Know
A large winter storm is moving up the East Coast and will bring snow and high winds to most of the area overnight into Thursday morning.
The highest snow amounts are expected at the Jersey Shore and Delaware beaches. But snow could fall as far N&W as the Lehigh Valley.
The nor'easter is undergoing a bombogenesis, which is a rapid intensification, as it moves north.
EDITOR'S NOTE: The nor'easter has arrived. Tap here for our latest coverage.
---
A massive and powerful nor'easter is moving through the our region, bringing significant snowfall and high winds to most of our neighborhoods. Along the coast, blizzard conditions are expected.
In the storm's wake, temperatures will plummet to levels not felt in decades.
We've issued a First Alert through Sunday morning from the Pennsylvania suburbs to the Jersey Shore and Delaware beaches.
The storm moved across Florida Wednesday morning after developing in the Gulf of Mexico. Northern Florida experienced an unusual snowfall as the system began tracking up the East Coast. Snow began falling in parts of South Jersey and Delaware around 9 p.m. Wednesday.

Local
Breaking news and the stories that matter to your neighborhood.
The nor'easter is rapidly intensifying — known in meteorological circles as bombogenesis — and although it will just be brushing the coast, the storm is so large that snow will be thrown into the Pennsylvania suburbs. The cyclone stretches at least 1,000 miles which is nearly the distance of Philadelphia to Kansas City, Missouri.

Wind gusts as high as 50 mph are expected at the shore and inland communities. The National Weather Service issued a Blizzard Warning through 7 p.m. Thursday for Ocean, Atlantic and Cape May counties in New Jersey and Sussex county in Delaware. Sustained winds or frequent gusts of 35 mph or higher plus visibility of a quarter-mile or less must persist for three hours for a storm to be classified as a blizzard.
Travel during the storm, especially the morning rush on Thursday, could be treacherous not only because of the precipitation, but also since the ground is very cold. Salt and brine typically used on roads is not as effective in such cold temperatures.
Several schools and districts in the area announced closures Thursday ahead of the storm, including Villanova University, the Philadelphia School District and all Archdiocesan high schools and parochial elementary schools in the City of Philadelphia.

PATCO also announced they will operate on a snow schedule starting at midnight Thursday.
New England will likely be dealt the worst blow from the storm and could see two feet of snow before the storm moves away.

After the snow, conditions will be windy with another round of dangerously cold air arriving Thursday night through Sunday morning. Highs will be in the teens both Friday and Saturday with morning lows in the single digits. The wind will make it feel like well below zero.
TIMING
Snow – Now through 2 p.m. Thursday (may start as a mix at the start)
Dangerous Cold – Thursday night through Sunday Morning


ESTIMATED SNOW TOTALS
The amount of snow depends on how close the system tracks along the coast and this could change quickly. Current forecast totals are as follows:

8-10 INCHES
Jersey Shore and Southern Delaware including Georgetown and Long Neck in Delaware and Cape May, Atlantic City, and Long Beach Island in New Jersey.

4-8 INCHES
Philadelphia, southeastern Pennsylvania counties, South Jersey, and northern and central Delaware including Wilmington, Milford, and Dover in Delaware; Vineland, Hammonton, Tabernacle, Washington Township, Evesham, and Trenton in New Jersey; all of Philadelphia; and West Chester, Brookhaven, King of Prussia, Abington, and Bensalem in Pennsylvania.
2-4 INCHES
Upper and western Pennsylvania suburbs including Coatesville, West Vincent, Pottstown, Hatfield, and Richland.
1-3 INCHES
The Lehigh Valley including Easton, Allentown, and Reading.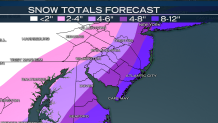 HOW COLD?
Friday and Saturday's highs will be in the low to mid-teens with a morning low between -8 and 8 degrees. Wind chills will be between -10 and -20 degrees in the morning. Sunday morning will also be frigid but the dangerous cold will taper off by mid-morning when the First Alert will expire.
FORECAST
THU: Snow through the afternoon. Low 23 High 28
FRI: Bitter cold, gusty winds. Low 8 High 17
SAT: Bitter cold, gusty winds. Low 4 High 15
SUN: Mostly sunny. Low 6 High 27
MON: Chance of afternoon rain. Low 24 High 43
Stay with the NBC10 First Alert Weather Team for the latest details on the snow and dangerous cold.
Photos: 'Frozendelphia' and Beyond as Arctic Temperatures Grip the Region