A fraudulent insurance claim helped lead investigators on the Main Line to arrest a suspect in a deadly hit-and-run.
Kevin Gaughan, of Paoli, surrendered Thursday to face charges in the March 6 crash along East Lancaster Avenue in Wayne that left 69-year-old Frank Gitterman dead.
Gitterman was crossing Lancaster Avenue in the crosswalk when an SUV struck him.
Delaware County investigators released surveillance video of the suspect's vehicle, believed to be a white GMC Yukon with front-end damage, hoping it would help them locate the driver. District Attorney Katayoun Copeland announced a $10,000 reward in the case.
Copeland called Gaughan a "cold-hearted perpetrator."
Investigators eventually zeroed in on Gaughan a few days after the incident. He had taken his SUV to a collision center after filing a false claim just minutes after the crash, Copeland said.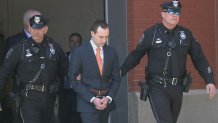 Gaughan was charged with fleeing an accident causing death, tampering with evidence and insurance fraud. He was released from prison after posting 10 percent of $500,000 bail.
He faces up to 20 years in prison if found guilty.