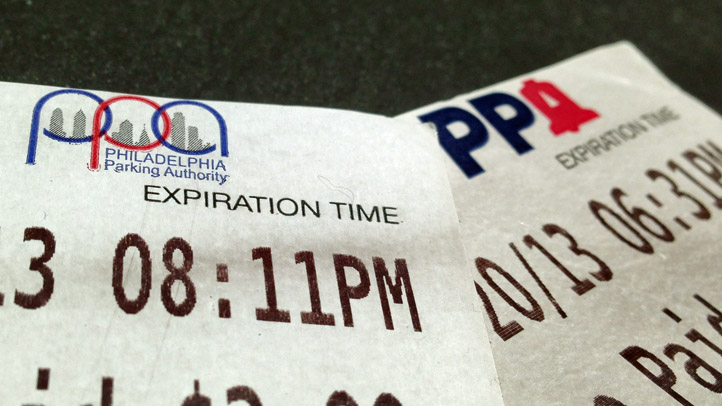 It is still the same agency that regulates parking, but now it has a new look.
Those of us who have recently paid for street parking or have received a ticket, may have noticed that the Philadelphia Parking Authority has a new logo.
For the first time in decades, the PPA has updated its look. The parking authority dropped the thick "PPA" logo of two blue "P"s followed by a red bell for the "A" that has been used since the early 80s in favor of a sleeker and simpler "PPA" comprised of all lowercase blue and red letters in front of the city's skyline.
Local
Breaking news and the stories that matter to your neighborhood.
"It encompassed a vision for the Parking Authority," spokesman Martin O'Rourke told NBC10.com.
O'Rourke says that logo overhaul cost about $5,000 and was designed by JLT Design's Jenna Teodoro.
"$1,500 of that money went to the actual design and the rest was used to resize, reformat and apply the design to a number of PPA components like letterhead, patches on sleeves, signs, and social media," O'Rourke said.
The process for changing the logo took nearly nine months of back and forth between Teodoro and PPA Customer Service Director Sue Cornell and 18 design iterations to come up with the final product.
O'Rourke said the PPA began instituting the new circular, "inclusive," and "futuristic" logo a few months ago, around the same time that the Parking Authority moved its headquarters from 3101 Market Street in West Philadelphia to 701 Market Street in Center City.
"It was an opportune time to make the change," O'Rourke said. With the move the PPA already needed new letterhead, business cards and other items.
"If a brand is established enough and everyone recognizes that brand, sometimes a brand refresh is very important," said Bernadatte Mackin, senior graphic designer with Center City Philadelphia design firm Eight Eleven. "It gets outdated just like everything else."
The change is now instituted on many parking slips, the authority's website and social media platforms.
O'Rourke says the Authority's new "customer service approach" on Twitter and Facebook needed a logo to represent their new direction. Some of that customer service includes directly responding to tweets.
Mackin says that brand perception is the key to the new logo.

"They are definitely trying to go with a friendlier approach… instead of the blocky, hard font," Mackin said. "Open, light, round, definitely gives a friendly approach and I guess that's exactly what they are trying to do here."
But just because the PPA has a new logo doesn't mean that you will see it the next time you park in the city. The modernized logo eventually be visible on PPA uniforms, cars, signs and other items as updates to the equipment are needed so there are still plenty of old logos out there.
"It's just a matter of time as the replacements occur. There is no set date," O'Rourke said.