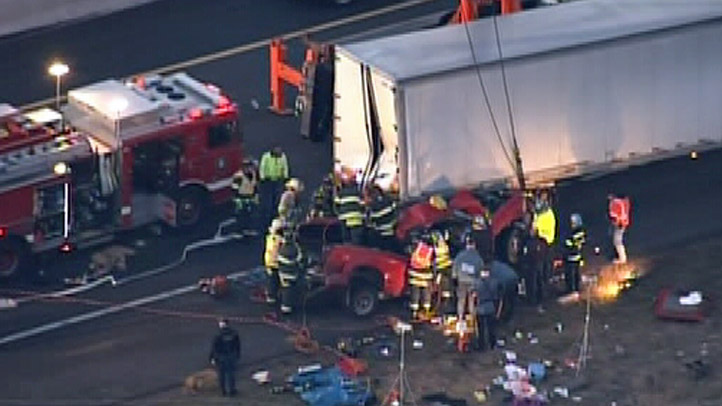 It was a traffic mess on the New Jersey Turnpike Monday morning after a pickup truck towing a horse trailer and two tractor-trailers were involved in a wreck that took five hours to clear.
The crash happened around 5:15 a.m. around mile post 60 on the southbound lanes just south of exit 7-A (I-195) in Robbinsville, Mercer County, according to authorities.
At one point traffic was backed up 14 miles approaching the wreck.
Local
Breaking news and the stories that matter to your neighborhood.
Per the Turnpike Authority:
As of 9:07am, there are Delays on the New Jersey Turnpike southbound from South of Interchange 8A - NJ 32 in Monroe Twp to South of Interchange 7A - I-195 in Robbinsville 90-120 minute additional travel time.
Crews rushed to the scene to rescue the driver of the pickup truck after his truck became lodged under the rear of the tractor-trailer. More than two hours after the wreck the driver of the pickup was still stuck in the wreck.
The horse trailer apparently became detached from the pickup after it was rammed by another tractor trailer, according to investigators.
A preliminary investigation determined that it appeared that all three vehicles were traveling in the center lane when the rear tractor-trailer bumped into the horse trailer causing the pickup to hit the other tractor trailer, according to New Jersey State Police.
The pickup driver was freed from the wreckage just before 8 a.m. and medivaced to the hospital, according to officials
The driver suffered undisclosed injuries. Four horses in the trailer were checked out on the scene and seem to be OK., said State Police.
Traffic headaches continued throughout the morning as crews worked to clean up the mess. Huge delays continued southbound as of 10 a.m. and traffic slowed for miles on the northbound side as motorists slowed down to look at the wreck.
As of 10:21 a.m. the Turnpike Authority said that all lanes were reopened.
---
Fan, follow and download: Get the latest from NBCPhiladelphia.com anytime, anywhere. Follow us on Twitter, Facebook, our mobile site and NBC Philadelphia. Sign up for our breaking news newsletter. And, get breaking news delivered right to your mobile phone -- just text PHIBREAKING to 639710 to sign up. (Message and data rates may apply.)