Describing her death as an "unjust, tragic killing," Philadelphia District Attorney Larry Krasner and other leaders vowed justice in the slaying of a transgender woman and encouraged marginalized groups to be unafraid to come forward if they are victimized.
The group met outside City Hall Thursday, following the shooting death of Mia Green earlier in the week. Green, 29, became the latest victim in attacks targeting transgender people in Philadelphia when she was shot Monday morning.
"This is not America, this is not Philadelphia, the 'City of brotherly love and sisterly affection,' and this is not a city for our trans and loved ones. This is hell on earth. No one deserves to be put through hell because of who they are or who they love," said Pennsylvania Sen. Larry Farnese, whose district includes parts of Philadelphia.
Farnese called on more protections for the LGBTQ community, including passing state laws that would eliminate "gay panic" as a defense for suspects accused of violence toward LGBTQ people.
"While we cannot legislate hate out of people's hart, we can use the law to prove that legislation finds it unacceptable," he said.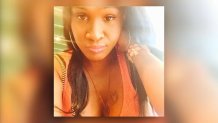 Green was killed Monday when, shortly after 8 a.m., police spotted a 2016 Jeep Wrangler going through a stop sign on 41st Street and Westminster Avenue. Responding officers then pulled the vehicle over.
Local
Breaking news and the stories that matter to your neighborhood.
The driver, identified by police as 28-year-old Abdullah Ibn Elamin Jaamia, got out of the vehicle and told the officers his passenger had been shot, investigators said. The officers then found Green in the passenger seat, suffering from a gunshot wound to her neck.
Police escorted the Wrangler to Penn-Presbyterian Hospital where Green was pronounced dead at 8:30 a.m. that morning.
Police later determined Jaamia was responsible for Green's death. He was charged with murder and other related offenses.
"She was very well loved and respected and from all accounts from everyone in the community, she was an amazing, beautiful person," Deja Lynn Alvarez, a transgender community activist, told NBC10.
Alvarez said Green and Jaamia were involved in some sort of relationship.
"We're a family so when this happens to one of us, we all feel it in a very profound way," Alvarez said.
Green's death occurred months after the dismembered body of Dominique Rem'mie Fells, a trans woman, was discovered in the Schuylkill River. Investigators determined she had been murdered.
"As calls for justice and equality continue to ring out across the country, we must ensure that LGBTQ individuals are centered and protected," said Executive Director of Philadelphia's Office of LGBT Affairs Celena Morris, who noted that she herself is a "proud, Black" transgender woman. "We must speak up when these acts strike our communities and demand an end to the violence and discrimination," she said.
Violence against transgender and gender non-conforming people continues to be a plague on the community. In 2019, at least 26 trans and gender non-conforming people were killed nationwide, according to the Human Rights Campaign. A staggering 91% of the known victims were Black women. So far this year at least 30 people died.
Krasner said fear of the criminal justice system prevents too many people from coming forward, but he assured those from marginalized communities, including sex workers and undocumented immigrants, that his office would not target them for reporting a crime.
"There are many, many, many, marginalized groups, and their victimization becomes easier because they are marginalized, because we as a society have attached a stigma – shame, bigotry – to them," he said. "But we want everybody protected. We want Mia Green protected. We want everybody protected."
Krasner also noted that Akhenaton Jones, the man accused of killing Dominique Fells, remains on the run. He asked people to contact the Philadelphia Police Department with information about his whereabouts.
There are additional resources for people or communities that have endured gun violence in Philadelphia. Further information can be found here.