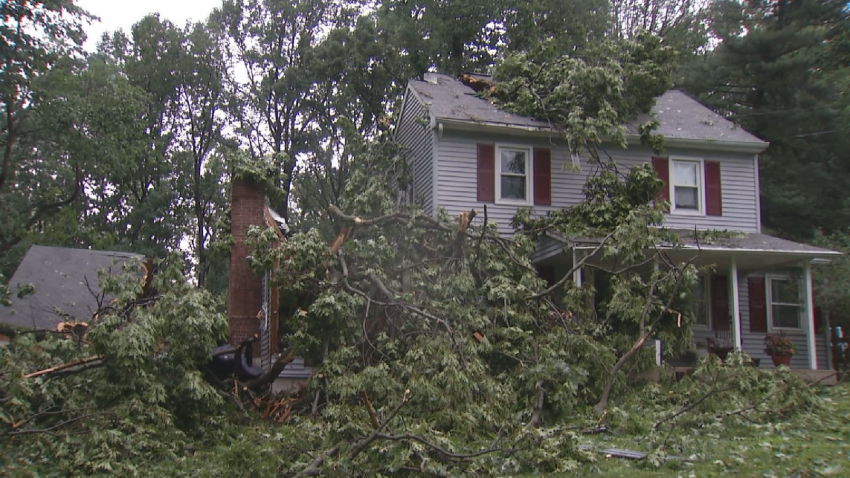 The Philadelphia region was recovering Wednesday after a line of severe storms Tuesday evening pummeled the area.
Widespread power outages affecting hundreds of thousands of people, and transit suspensions and delays were reported throughout the area Wednesday.
The thunderstorms tore through the area early Tuesday evening, blowing near-hurricane force winds, knocking down countless trees, flipping vehicles, injuring several people and cutting power to about 468,000 customers initially.
The storms moved in around 4:30 p.m. and quickly left a path of destruction in their wake. Two Tornado Warnings were issued for parts of Pennsylvania and New Jersey as driving winds brought rain down in sheets.
Trees -- large and small, old and young -- bowed to the storm's fury. So many trees came down on roads in Chester Heights, Pennsylvania that the town was essentially cut off to the outside world.
Local
Breaking news and the stories that matter to your neighborhood.
"We've been isolated," said Chester Heights Fire Chief Rob Hazlett. "All the roads into our town have basically isolated from additional help."
Firefighters used chain saws to make their way through one home to free a man trapped after a tree sent him, and the second floor of his home, to the ground. The man, his wife and an injured firefighter were all taken to a nearby hospital.
A bombardment of lightning traveled between the clouds and earth as the front swept across the area. In one 15 minute period, more than 900 lightning strikes were recorded by the NBC10 First Alert Weather computer system. One of the strikes landed yards from Tina Stitz as she looked on at the storm in Edgemont, Pa.
Some residents reported seeing clouds rotating. Scott from Delran, New Jersey was outside with his daughter Hannah when the sky started spinning above Huntington Drive around 6:30 p.m. He quickly darted into the house and down the basement for safety.
Reports from witnesses showed trees on the Schuylkill Expressway near King of Prussia, a large limb on top of an Audi along Kelly Drive in Philadelphia and a flipped tractor-trailer along Interstate 95 near Philadelphia International Airport. The airport, which put a 75 minute ground stop in place, clocked winds at 71 mph during the height of the storm around 6 p.m. The strongest gust was recorded in Medford, New Jersey at 75 mph. Category 1 hurricanes pack sustained 74 mph winds.
In Deptford, New Jersey, several NBC10 viewers shared photos of a car flipped over, shattered windows and exterior damage at the Deptford Mall. Shoppers said it was a tornado that caused the damage, but the National Weather Service has not made a confirmation.
Further north in Maple Shade, Mike Smith looked on as a large tree was blown right out of the ground along his street. He sent in video through the NBC10 app.
PATCO officials said the high-speed rail line won't be operating Wednesday morning because of power problems. The last time the line was out of service came in the aftermath of Superstorm Sandy.
The falling trees and strong winds brought down power lines in many of the Philadelphia suburbs. Jeremy Dubs was driving along Sharon Avenue near Chester Pike in Collingdale when a live wire dropped in front of his car.
Gloucester County officials declared a state of emergency as they survey the damage left behind by the storm.
Download the NBC10 app to track any storms that develop in your neighborhood with Live, Interactive radar.