When he arrives to work each day, Fred Beard says "you never know what's going to happen."
The unpredictability might explain how Beard endures such long days and weeks at the Montgomery County Correctional Facility.
The veteran corrections officer averaged 80-hour work weeks during the first nine months of 2016. Through Sept. 23, he collected $49,000 in overtime on top of a salary of $44,842.
"In a prison, there is always something going on," Beard said during an interview last fall. His daily routine at the hilltop prison in Eagleville is a whirlwind of activity: Working a hub in one of the prison blocks, Beard monitors numerous video screens, 360 degrees of hallways and dozens of locked doors.
In this bustling environment, there is always work to do, and always overtime for those willing to do it, according to Beard and his supervisors.
Beard was the top OT earner among the 3,100 workers employed by Montgomery County during those first nine months -- but he was not the only one riding the gravy train in recent years.
An NBC10.com analysis of payroll records found that county workers earned more than $26 million in overtime since 2011.
Local
Breaking news and the stories that matter to your neighborhood.
Consider that money this way: If the county spent that much on new corrections officers at the county average of $41,000, they could hire another 600. That's more than double the 260 corrections officers currently on the books.
Spent another way, it would pay down nearly all of the $28 million in new county expenses budgeted in 2016 and 2017, which has increased taxes $110 for the average homeowner.
And OT costs are on the rise, from $3.8 million in 2011 to $5 million in 2015. (Through September, the county was on pace to pay out another $5 million in 2016.)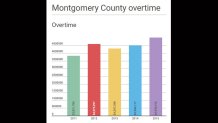 A spokeswoman for the county commissioners, who oversee spending, said overtime is reviewed quarterly. She attributed the rise to a policy implemented in 2014 that reduced the payout for accumulated sick time at the time of retirement.
"As a result, there has been an increase in absenteeism, which reduces attendance percentage and creates a need for coverage/overtime," county spokeswoman Lorie Slass said.
Most of the top earners come from four departments: Corrections, Emergency Communications, District Attorney, and Sheriff.
Officials who head those departments say the jobs garnering the most overtime -- corrections officer, county detective, 9-1-1 dispatcher -- all share traits that make them inherently hard to staff without the use of overtime.
Public Safety Director Tom Sullivan said extensive training and high turnover inside the county dispatch center are main causes for the overtime, which is necessary to keep in operation 24 hours a day, 365 days a year.
"There's a limit to increasing the staff size," Public Safety Director Tom Sullivan said. "Once we hire someone, they have to go out for four months of training. We're constantly recruiting, constantly testing, and it is a big effort to fill the jobs. It's a constant struggle in this entire industry."
He added that "many don't want to work overtime and there are some who will work it."
'It Does Fall on the Shoulders of Some'
Like Beard in Corrections, a 9-1-1 dispatcher apparently willing to work any and all hours is Brian Spatz, who has earned $249,000 in overtime since 2011.
Spatz is tops in a department that averaged $5,374 in overtime per employee in the first nine months of 2016. Since 2011, Emergency Communications workers collectively earned $7 million in overtime.
Some of it is built in, with dispatchers and supervisors required to work four hours of overtime each week.
But Sullivan said large amounts of OT for some employees does concern him.
"Our management staff is constantly looking at that," he said. "Many don't want to work OT and there are some who do."
Sullivan said the staff has increased by more than 30 positions in the last decade and yet the overtime demand persists. In 2016, there were 180 employees in Emergency Communications.
"Not everyone is willing to come in. It does fall on the shoulders of some employees," he said.
In addition to the county prison and the dispatch center, some of the highest paid county employees receive sumptuous amounts of extra hours.
County detectives in the District Attorney's office averaged $106,000 in salary in 2016. They took home another $10,700, on average, in overtime.
In early December, District Attorney Kevin Steele pleaded with county commissioners to provide $238,000 in additional funding to his office, so he could give his assistant district attorneys pay increases in 2017. The county commissioners ultimately decided against giving Steele the money. Assistant DAs average $55,000 in salary.
Since 2011, the District Attorney's office has spent $3.8 million in overtime, with the vast majority of that going to county detectives.
Steele defended the overtime for detectives, saying his highly-specialized investigators need to work long hours after crimes happen to help close cases.
"We have excellent closure rates, and my detectives are the reason for that," he said.
Still, he said, the pay for his prosecutors is the reason why he loses good, young attorneys every year.
"Don't get me started on that. Their salaries are a whole other story I'd be happy to talk about," he said in an interview with NBC10.com, prior to the budget hearings.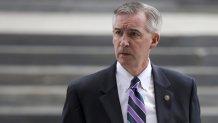 An Effect on Employees' Pensions
In addition to short-term effects on county budgets, the difficulty in finding and retaining dispatchers and corrections officers strains long-term county spending.
Pension payouts to county employees include overtime in calculating retirement compensation.
Despite calls to cap or eliminate overtime from those calculations, governments like Montgomery County and Philadelphia continue to allow it as a factor.
When figuring out an employee's retirement pay, Montgomery County uses the three highest years' compensation -- salary plus overtime -- to determine the annual pension.
In the case of Fred Beard, the prison officer, his annual pay in retirement will be thousands of dollars more thanks to all his hours of overtime.
"He's got a plan," the jail's warden, Julio Algarin, said in an interview in the fall. "As long as he's not wearing himself down, I'm fine with it."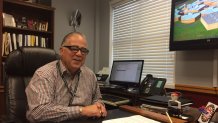 Beard's plan is simple: Pack in as many hours of OT as possible to boost his pension, so when he retires -- likely in three years, he says -- he'll have a much larger annual compensation.
Neither Algarin nor Sullivan said they are aware of large numbers of staffers using overtime purposefully to boost their eventual pensions.
"I have not noticed that as a pattern," Sullivan said.