Hundreds attended a funeral Mass for a woman and her three children, victims of an apparent murder-suicide inside their Berks County home.
Friends and family gathered at a Philadelphia church on Friday to remember Megan Short, 8-year-old Lianna, 5-year-old Mark Jr. and 2-year-old Willow.
Short's husband, Mark Sr., was also found fatally shot at the family's home in Sinking Spring, Pennsylvania, last Saturday. He was mentioned only in passing at the service.
Megan Short had alleged abuse and posted on Facebook that she needed help moving out of the family's home on what turned out to be the same day all five were found killed.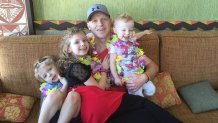 Police found a gun and a suicide note. But investigators said they wouldn't discuss their investigation until Monday, after funeral services had been held.
Local
Breaking news and the stories that matter to your neighborhood.
The Shorts had been featured in news stories about their difficulties getting medication for a daughter who had a heart transplant.
Copyright AP - Associated Press