What to Know
Two teenage Chester High School students were shot after school Thursday.
On Friday, as a police presence greeted students, gunshots could be heard nearby.
Chester, located in Delaware County outside Philadelphia, has had nearly 100 shootings so far in 2019.
A day after a gunman shot two teen boys who were walking home from school in Chester, Pennsylvania, more gunfire could be heard as students returned to school Friday morning.
Friday's shooting a couple blocks away was heard by an NBC10 crew around 7:50 a.m. After five or more shots were fired, police officers raced toward the gunfire as panicked teachers and staff frantically tried to get students into the school.
At least one dozen students were gathered outside the Noah Food Market at West 10th and Parker streets Friday. They ran inside the corner store when the shooting began.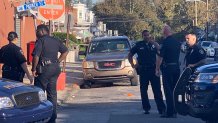 Officers said they didn't immediately find anyone who was shot outside, but did find an SUV with bullet holes in it.
Friday's gunfire came as police were already posted outside the school after 15- and 17-year-old Chester High School students were shot while walking near the 300 block of West 8th Street around 3 p.m. Thursday.
Local
Breaking news and the stories that matter to your neighborhood.
The 15-year-old was shot in his right lower chest, right arm and left leg. He was taken to the Crozer Chester Medical Center and listed in critical condition. The 17-year-old was shot in his left foot. He was also taken to Crozer Chester where he was listed in stable condition.
No arrests have been made and police have not released a description of anyone involved in the shootings.
The school district is vowing to keep students safe amid a string of gun violence in the Delaware County city.
"We will continue to work in cooperation with the city police in helping us to keep our students safe," Chester Upland School District superintendent Dr. Juan Baughn said in a brief statement Thursday. "There will be additional police presence before and after school in the areas that are most vulnerable. Additionally, counselors and support staff will be available tomorrow at all schools to speak with students if needed."
Thursday's incident marked the 95th shooting of the year in Chester.
"We have had 14 shootings this month alone, and 20 shootings last month," a Chester Police spokesman told NBC10. "These shootings do not count as part of the 12 homicides that we have had this year."
Anyone with information on the shootings should call Detective Victor Heness at 610-447-8429 or email him at vheness245@chesterpolice.org.