Police and prosecutors have offered no evidence that the fatal shooting of a Republican activist outside Philadelphia was politically motivated, despite online stories that strongly suggest his assailant was inspired by hatred of President Donald Trump.
Clayton Carter III, of West Goshen Township, was charged with first-degree murder after police said he shot his next-door neighbor twice in the head early Tuesday.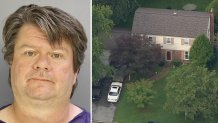 The victim, Brooks Jennings, was a GOP committeeman, and Carter had anti-Trump signs in his yard. That prompted several right-wing websites to post misleading and inflammatory stories that made a connection between Carter's opposition to the Republican president and Jennings' slaying.
But there's been no suggestion by authorities that one had anything to do with the other.
A police affidavit filed in the case makes no mention of Trump, nor of Jennings' work for the GOP, and it says Carter had a "history of disputes" with Jennings and "multiple other neighbors." The affidavit says Carter and Jennings argued over a spotlight immediately before the shooting.
Chester County District Attorney Tom Hogan, a Republican, cited a "long-running neighborhood dispute" that culminated in the shooting. He said on Thursday the investigation is ongoing but the evidence so far suggests no connection to politics. He said the two men simply didn't get along.
Local
Breaking news and the stories that matter to your neighborhood.
"They didn't agree on the time of day," he said. "They didn't agree the sun rises in the east. They didn't agree on anything."
Carter was a menacing figure in the neighborhood, residents told local media, and police said he had previously pulled a gun on Jennings.
Shannon Royer, senior adviser of the Chester County Republican Party, also said there's no indication that Jennings' death had anything to do with his political leanings or Carter's anti-Trump politics.
"The shooter was a problem in the neighborhood for years. He had many disagreements with his neighbors on a whole range of issues. He was a very threatening individual, and he had a history of violence," Royer said. "We do not believe the shooting was inspired by any kind of political disagreement."
Carter told police after the shooting that Jennings pulled a knife, according to court documents. His lawyer, Terrence Marlowe, said he claims he acted in self-defense.
Copyright AP - Associated Press