Jason Walters will always remember working this week's Democratic National Convention in Philadelphia -- and not just because he's detailed to Center City during the event for his job as a Transit Police officer.
Walters, who's been on SEPTA's police force about eight years, spent the week meeting other law-enforcement officers from agencies far and wide to exchange police "challenge coins" commemorating each department and unit's work on the national convention.
"It adds a little recreation to police work," Walters, a K-9 officer, told NBC10.
Check out photos of some of the DNC coins Walters collected this week:
Police Working DNC Swap Commemorative Challenge Coins
Walters said he's already collected about a dozen different challenge coins during the DNC, from agencies including the U.S. Secret Service, U.S. Marshals, Federal Air Marshals, and specialized units like his own, and the Philadelphia Police Department's Marine Unit, Counter-Terrorism Operations, Highway Patrol and 22nd Police District.
Walters has always been a collector, and has an extensive collection of various police challenge coins from across the nation. He said officers will trade coins. He had 150 made up for SEPTA Police's K-9 unit for the DNC, and he was down to about 15 left on Wednesday. He showed off his collection to NBC10 on Tuesday night.
Local
Breaking news and the stories that matter to your neighborhood.
Police challenge coins also popped up during the Papal Visit. Walters said they've long been a tradition in police departments in cities like New York and Los Angeles, but they're fairly new to local officers.
"I actually started out with [police] patches. The challenge coins became huge," Walters said. "It wasn't really that big in this area until right before the Pope came."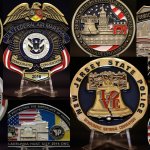 Walters said it's usually just one officer in a certain unit or department who decides to have challenge coins made that gets everyone involved. He said he's talked to officers from about a dozen different agencies during the DNC to swap coins.
"It creates a brotherhood, talking to all these different people from different agencies," he said. "It brings forth conversation as well as brotherhood."