What to Know
Ryan Pownall is accused of shooting and killing David Jones during a June 2017 traffic stop.
Pownall was fired earlier this year. The FOP has promised a vigorous defense.
Philadelphia and Jones' fmaily have reached a $1-million settlement in which the City takes no admission of liability.
The City of Philadelphia has agreed to pay $1 million to the family of David Jones, a man shot to death during a 2017 police stop, city officials said Friday.
"The shooting death of David Jones was a tragic incident, and I hope this resolution will begin to assist his family in moving forward after what they have been through," Mayor Jim Kenney said. "My administration remains steadfast in its commitment to ensuring all people in our City receive fair and equal treatment at the hands of law enforcement officials."
The settlement doesn't include any admissions of liability by the City, the mayor's office said. City Solicitor Marcel Pratt said Jones' family asked to resolve the claims without a civil lawsuit to prevent reliving the June 2017 shooting.
Ryan Pownall, the former police officer accused of shooting Jones in the back as Jones ran away and who has since been fired, is being held in jail for the shooting death of Jones last June along Whitaker Avenue. He is the first city officer in years to face a homicide charge for an on-duty shooting.
Jones' family released a statement through attorneys John M. Dodig and Robert J. Levant: "The death of Mr. Jones was a tragic and senseless loss of life.
"David Jones was loved by countless family members and friends and will always be remembered as a hard-working citizen who was dedicated to his family and friends. The death of David Jones was completely preventable and his family hopes that lessons are learned from this tragedy."
Philadelphia Police Commissioner Richard Ross says "the number one priority" of his department is preserving life.
"The use of deadly force by police officers in Philadelphia should be a last resort," Ross said. "The PPD's policy is that officers will use deadly force only where there is an immediate threat of death or serious physical injury to themselves or another person."
Ross promised continued changes in the department to train officers to not use deadly force.
"We continually find ways to improve police strategies and techniques, and to provide officers with comprehensive and up to date training on the use of deadly force," Ross said.
Pownall was fired from the police department following an internal review. His attorney, Fortunato Perri Jr., argued after Pownall's arrest that his client's actions were entirely appropriate.
"His training dictated that once you are justified to use your weapon ... you are justified in continuing that action," he said last month.
When announcing charges against Pownall, District Attorney Larry Krasner said the charges came after a yearlong investigation by a grand jury. Pownall is charged with criminal homicide, reckless endangerment and possession of a weapon of crime.
At the time of the shooting, Pownall had been transporting three people to the department's Special Victim's Unit for an interview. Krasner said the officer pulled across traffic and into a parking lot after seeing Jones.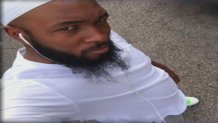 Pownall, who served 12 years on the force, patted down Jones and felt a gun in his waistband, police said.
A witness in back of Pownall's police vehicle watched Pownall pull his service weapon and warn Jones not to touch the gun, police said. The two men then briefly scuffled as Jones turned his back on Pownall and fled, investigators said.
Pownall attempted to fire his service firearm, but it jammed, Krasner said. Jones, who was also armed, threw away his gun and ran in the opposite direction of the weapon, according to authorities.
Surveillance video obtained by NBC10 appears to show Jones running away when he was shot.
"Video recovered from the scene shows that Jones was unarmed and he never turned toward Pownall or gestured in a threatening manner during his (running away)," Krasner said. "As Jones ran, unarmed, Pownall fired at least three shots toward Jones and traffic, hitting Jones twice in the back."
The entire deadly interaction lasted less than 30 seconds.
"Jones' death was not necessary to secure the apprehension of Jones," Krasner said.
Local
Breaking news and the stories that matter to your neighborhood.
The Fraternal Order of Police have called for the charges to be dropped and for Pownall to be reinstated on the force. They also called for Pownall to be allowed bail.
"FOP Lodge 5 and fellow officers stand in solidarity with Officer Pownall and his family," FOP President John McNesby said. "We promise a vigorous defense and expect Officer Pownall to be cleared of all charges and get his job back protecting the community."