What to Know
A wintry mix created icy road and sidewalk conditions overnight.
Give yourself extra time to walk on slippery sidewalks and walkways. Also you will likely need time to scrape the car off.
Later in the week, the region will see much warmer temperatures — finally.
A wintry mix left an icy mess on sidewalks and roads in parts of our area.

Icy conditions began setting in up in the Lehigh Valley and western Pennsylvania suburbs around 1 p.m. Monday. It spread into Philadelphia around 3 p.m. and swept across New Jersey and Delaware over the early evening.
The light freezing rain glazed untreated surfaces — like sidewalks long frozen by the extreme cold — with ice. Minor accidents on icy roads and people slipping on sidewalks were reported throughout Monday night into Tuesday morning.
A number of school districts including the School District of Philadelphia dismissed students early ahead of the wintry weather. Philly public schools and early childhood centers closed at 1 p.m. Monday. Hundreds of schools also delayed openings on Tuesday to allow time for roads and sidewalks to thaw out with rising temps.
Local
Breaking news and the stories that matter to your neighborhood.
The City of Philadelphia closed municipal offices and courts at 2 p.m.

The system moved out by midnight and we'll finally see a warm-up for the rest of the week.
The wintry mix came after record-setting cold in the area Sunday. In Atlantic City, the temperatures dipped to three degrees below zero, smashing the previous record of four above set in 1884.
Trenton saw a new record low of two degrees below zero. Wilmington set a new record at 2 degrees above zero.
And Philadelphia tied a record, at 4 degrees above zero.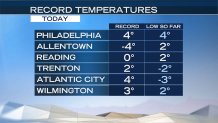 Temperatures finally warmed up Saturday afternoon — all the way to the low 20s throughout the region — with light winds. That wasn't enough to melt the snow that still coats the region from last week's storm however.

Temperatures will increase into the low 40s Tuesday and Wednesday before climbing into the 50s on Thursday and Friday.

FORECAST
TUE: Partly sunny and warmer. High 44
WED: Partly Sunny and nice. High 41
THU: Increasing clouds, afternoon showers possible along with widespread fog forming. High 50
FRI: Cloudy with periods of rain possible, mild. High 55
Photos: 'Frozendelphia' and Beyond as Arctic Temperatures Grip the Region