When the Philadelphia International Bike Race moved its finish line to the Manayunk Wall a few years ago, longtime enthusiast Jason Mangler said the competition became "a climber's race."
The Ambler Bike Race, which Mangler helped start last year, is the quintessential "sprinter's race."
"It's the NASCAR of bike races," he said Thursday outside Ambler Theater on East Butler Avenue, where the start and finish line for the second annual race Aug. 13.
Professional riders from all over the world -- the men's winner in the featured race last year is from New Zealand -- will become blurs around the tiny borough's race route. That route is roughly one mile and the top tier of male and female riders will do it 40 times. Mangler said the best times will likely be under 90 minutes.
"One of the great things about this race is the wind you'll feel as the group goes by you," said Travis Geiser, sports sales director for the Valley Forge Tourism and Convention Board who rode the course Thursday with Ambler Mayor Jeanne Sorg. "That's one of the coolest feelings, the wind created by the race."
"They go by as a blur," Geiser added.
Proceeds from the race go to the local fire department and Ambler Main Street, the borough's business corridor association. Sorg, a 16-year resident who has been mayor for three years, said the entire borough transforms into a world-class race track.
Local
Breaking news and the stories that matter to your neighborhood.
"It's a wonderful showcase for what a great place Ambler is," she said.
Races will take place all day on Aug. 13, starting in the morning with amateur bike riders who will do the course five times. The beginners give way to semi-professional and professional riders who are separated into five categories of skill-level. Races will be spread out so each class of riders is given its time on the mile track.
The world-class group of Category 1 female riders will begin at 1:45 p.m. followed by the Category 1 male riders at 3:15 p.m. Numerous top-tier riders have already registered, Mangler said.
Races will also have cash prizes for winners. Mangler touted the competition's equal prize money for both men's and women's races.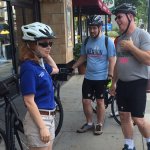 The technical term for this type of sprint race is "criterium," Mangler said. He said fans who come to watch will also be fascinated by in-race "primes," which are declared by race officials and give winners of certain laps smaller prizes.
"You'll hear a bell ring and that means a 'prime' has been declared," Mangler said. The word is French and pronounced "preem."
Last year, the race raised more than $9,000 in sponsorship money that went to the local non-profits. This year, Mangler said they have already raised $12,000.
Mangler rides with a local group called Zen Masters Racing, which is based in Philadelphia. The group, Mangler said, has been instrumental in organizing the race and helping run it.
A lot of work, after all, goes into turning borough streets into a high-speed race course. Rails are erected along the entire route and a huge race clock stretches over East Butler Avenue at the start/finish line. Local police and firefighters also lend a big hand, and restaurants and businesses open their doors for the hundreds of spectators, Sorg said.
"It really brings the whole community together," she said.
"That's why we came out here today to ride the course and show support. Ambler is a microcosm of everything that's great about Montgomery County," Valley Forge Tourism and Convention Board spokesman Dan Weckerly said prior to joining Sorg on her promotional bike ride Thursday.
Could East Butler Avenue become the next Manayunk Wall -- sans the beer kegs and the huge hill?
"We're certainly trying to bring that Philly race feel here," Mangler said.
For more information about the Aug. 13 race, and day-of registration details, check out this flyer. Or go to Zen Masters Racing's website, where a map of the course can be found.