The man accused of shooting a Philadelphia Police officer during a violent struggle was arraigned early this morning on attempted murder and nearly two dozen other charges.
Eric Torres is accused of shooting 25th District Officer Edward Davies during a violent confrontation.
Torres, 31, remains in custody ahead of a preliminary hearing on Sept. 4. Besides attempted murder he is also accused of four counts of aggravated assault, four counts of simple assault, assault on a police officer, reckless endangerment, resisting arrest, a slew of firearms violations and drug charges, according to court papers.
He was arrested after police say he shot Davies, 41, during a brutal brawl with several officers around noon on Tuesday inside the Almonte Mini Mart at 4th and Annsbury Streets.
Police chased Torres, an ex-con with a long arrest record, after he fled a traffic stop at 5th and Allegheny Streets over a broken taillight. Torres evaded officers, but was spotted fleeing into the corner store a short time later. That's where Davies and at least two other officers found him and engaged in a struggle for several minutes before Torres allegedly pulled the trigger, hitting Davies in the stomach, below his bulletproof vest, police said.
Philadelphia Police Commissioner Charles Ramsey said Davies underwent a second surgery Wednesday at Temple University Hospital as doctors try and repair his damaged kidney.
Officials say the .45-caliber Glock Torres used in the shooting was stolen. Sources told NBC10 Tuesday that the gun was linked to a police officer in a township outside of Philadelphia. They did not, however, elaborate as to which township. Sources close to the investigation also told NBC10 that Torres may have been behind a previous homicide in Philadelphia.
Sources say detectives also found ammunition for the stolen gun, a 9mm handgun and $50,000 worth of heroin during a search of Torres' Feltonville home Tuesday night.
Torres had an extensive criminal history prior to his most recent arrest. Dating back to 2004, he was arrested 12 times, including five in which he was charged with assault on police.
In 2005, he pleaded guilty to drug charges and was sentenced to six months in prison. In 2006, he pleaded guilty to simple assault and was sentenced to six to 23 months in prison. In 2007, he pleaded guilty to drug charges and was sentenced to two to four years in prison. Between 2007 and now, he was arrested for other offenses, including aggravated assault, simple assault and resisting arrest. Court records show he was found not guilty of those charges back in November of 2011.
After the fight with officers, Torres was hospitalized at Einstein Medical Center for minor injuries sustained during the struggle. He was transferred to police headquarters Wednesday afternoon.
Officer Davies, a six-year veteran of the force, remained in critical condition following the second surgery. Officials say he will most likely have to undergo several additional surgeries.
Philadelphia Police are organizing a blood drive in support of Officer Davies. The blood drive, only for Philadelphia officers, will be held on Thursday from 12 p.m. to 5 p.m. and Friday from 7 a.m. to 5 p.m. at the Temple Administrative Services Building, Training Room 8, at 2450 W. Hunting Park Ave.
The general public can also donate blood for Officer Davies at the Red Cross Donation Center on 700 Spring Garden Street on Thursday and Friday from 7 a.m. to 2 p.m. They can also donate blood at the Red Cross Donation Center on 1401 Rhawn St. Thursday from 12:30 p.m. to 7:30 p.m. and Friday from 8 a.m. to 3 p.m.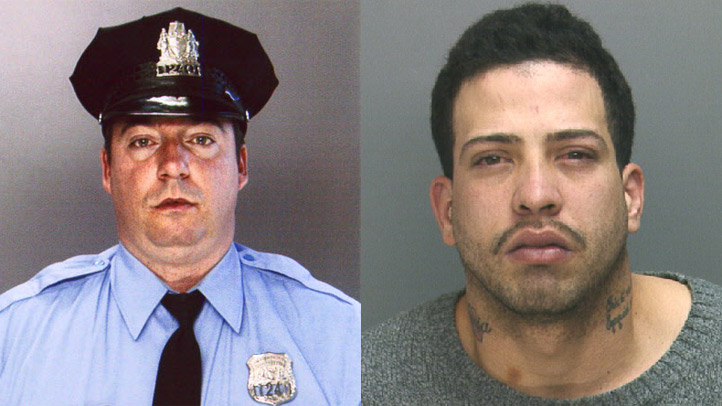 Philadelphia Police Officer Edward Davies (L) was shot in the stomach following a violent struggle with Eric Torres (R) inside a Feltonville corner store Tuesday afternoon, police say. Photo: Philadelphia Police
NBC10's Lu Ann Cahn contributed to this report
Published at 5:09 AM EDT on Aug 15, 2013 | Updated at 7:02 PM EDT on Aug 15, 2013