A laundromat owner who shot a robber as well as a bystander in North Philadelphia Sunday afternoon won't face charges, police said.
Investigators say the ordeal began at 4:19 p.m. when a 42-year-old man armed with a knife entered a laundromat on the 2800 block of N. 5th Street. The armed man forced the laundromat owner, who was behind the counter, to give him $2,000, investigators said.
As the robber left with the money, the laundromat owner grabbed a revolver and began to chase him, police said. as he made his escape, the robber threw the money in the air as the owner ran after him, police said.
"I saw one of the guys running with a pack of money," Angel Perez, the owner of a store next to the laundromat, said. "When this guy ran he told him three times, 'Stop! Stop! Stop!'"
The owner then fired five shots and struck the robber twice in the chest, investigators said. A 51-year-old woman, who investigators say was an innocent bystander, was also shot twice in the left hand.
Caught on Video: Store Owner Fights Back as Neighbors Snag Cash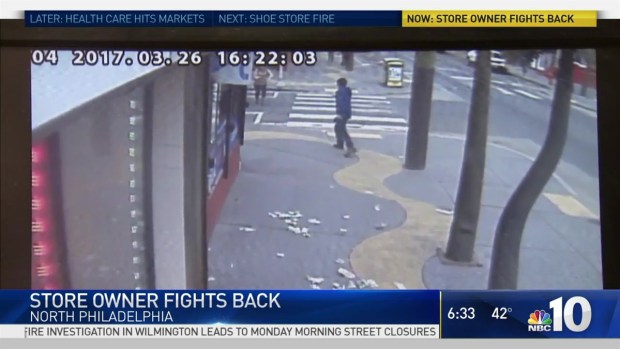 Surveillance video showed neighbors swarming the sidewalks and picking up the cash the suspect had thrown to the ground.
"People running north, south, west, east," witness Elvin Gonzalez said. "Then all of a sudden I'm like, 'Why are people coming back?' Because they saw the money flying in the air."
Police say all the money that the robber stole and threw to the ground was stolen again by the onlookers. At a news conference Monday, they urged those people to turn the money over to authorities or face possible consequences.
Both the alleged robber and the woman were taken to the hospital. The robbery suspect was listed in critical condition while the woman was listed as stable.
The owner of the laundromat was taken into custody for questioning. He has a license to carry and cooperated with investigators. since the owner thought the suspect was armed and feared for his life, he wasn't charged with the shooting, police said.