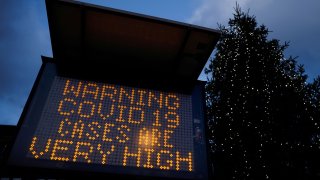 European markets closed significantly lower on Monday as investors monitored a fast-spreading new variant of the coronavirus that has shut down much of the U.K.
The pan-European Stoxx 600 provisionally closed 2.3% down, with banks falling 3.6% to lead losses. All sectors and major bourses slid into negative territory.
Traders are nervously watching the new Covid mutation in the U.K., which has resulted in a tough lockdown in London and other parts of southeast England and a U-turn on the mixing of households over the Christmas break.
The variant is thought to be up to 70% more transmissible than the original strain of the disease. The World Health Organization said it has so far been identified in Denmark, the Netherlands and Australia.
It has led to several countries in Europe and elsewhere to block travel from Britain. France, Germany, Italy, Ireland and the Netherlands all barred flights from the U.K., as have Canada and Israel.
The situation could further complicate Brexit talks. Britain and the European Union remain in a deadlock over post-Brexit trade relations as a Dec. 31 deadline looms, with disputes over issues such as fisheries plaguing negotiations.
Sterling sank sharply versus the dollar, falling 1.32% to around $1.3345.
In Asia, stocks traded mixed as the coronavirus situation in parts of North Asia — such as Japan and South Korea — remains serious.
Meanwhile, on Wall Street stocks fell as enthusiasm over a coronavirus stimulus deal was overwhelmed by worries over the viral new Covid strain in the U.K.
The Dow Jones Industrial Average slid 260 points. The S&P 500 shed 1.6% and the Nasdaq Composite fell 1.5%.
Travel stocks suffer
Cruise operator Carnival was down over 5%, while booking service Trainline shed more than 10%.
Oil companies BP and Shell were also down around 5% as the market closed.
Copyright CNBCs - CNBC