Brian X. McCrone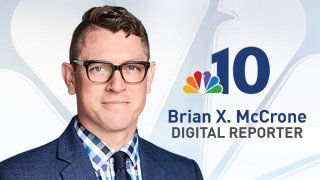 Brian X. McCrone is an editor and reporter with the NBC10 Digital team, working on enterprise stories and with the NBC10 Investigators.
McCrone covers climate change, politics, criminal justice and public safety, and of course, breaking news. He joined NBC10 Philadelphia in April 2016.
McCrone previously worked as an editor and staff writer at Philly.com, the Philadelphia Inquirer and Daily News.
He also served as national news editor for Metro newspapers in Boston, New York City and Philadelphia. He began his career as a journalist at The Times of Trenton.
A native of West Orange, New Jersey, McCrone is a 2002 graduate of The College of New Jersey where he earned a Bachelor's of Arts in communication studies. He lives in Philadelphia.