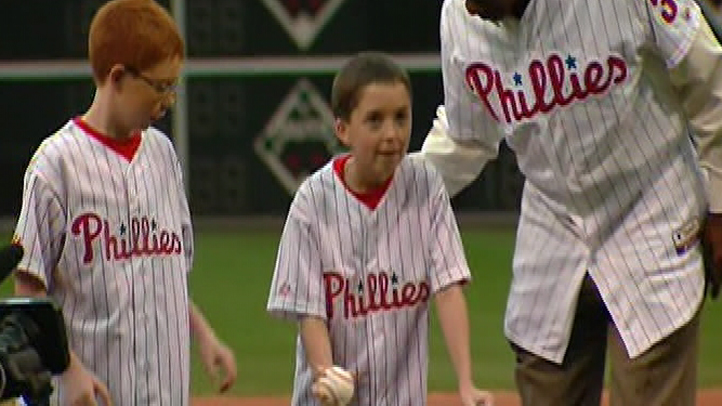 The 9-year-old Phils fan who made headlines when he was struck by a hit and run driver back in August, lived every Phillies fan's dream Saturday when he threw out the ceremonial first pitch in the Phils first playoff game against the St. Louis Cardinals.
Nearly two months since the horrific accident, Ryan White along with his older brother Kevin, took the mound on Saturday around 5 p.m.
White was injured on August 4 in San Francisco while he and his family were walking to their hotel room after a game between the Phillies and Giants. Ryan was struck by a Toyota Tundra driving the wrong way down the street. He was taken to the hospital in critical condition and treated for a traumatic brain injury, damaged liver, broken pelvis and broken leg. The driver, who fled the scene after hitting Ryan, was later caught and charged with driving under the influence and felony hit and run.
During his first weekend in the hospital, Ryan was visited by Shane Victorino, Charlie Manuel and Ruben Amaro Jr, who brought him autographed Phillies clothing, according to the Inquirer.
As he continued to recover, Ryan was transported to the Children's Hospital of Philadelphia on August 15. He finally returned to his home in Lower Makefield Township on September 10.
The Inquirer reports that Ryan is currently receiving home schooling from a private tutor provided by the Pennsbury School District and that he's skyping with his fourth-grade class at Edgewood Elementary School.
Ryan's mother told the Inquirer her son is doing well, undergoing three therapy sessions a week. He is set for surgery in November for an internal injury.
The Ryan White Trust has been set up to cover medical costs for Ryan, according to the Inquirer. You can mail your contributions to Ryan White, P.O. Box 562, Langhorne, Pa. 19047.
---

Fan, follow and download: Get the latest from NBCPhiladelphia.com anytime, anywhere. Follow us on Twitter, Facebook and NBC Philadelphia. Sign up for our sports newsletter. And, get breaking news delivered right to your mobile phone -- just text PHIBREAKING to 639710 to sign up. (Message and data rates may apply.)