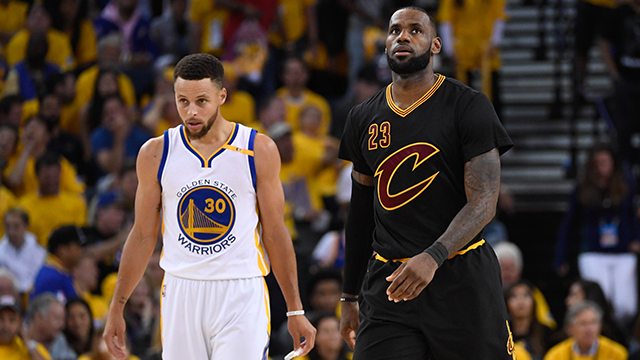 It doesn't seem like the NBA is going to have to go through this charade in a few months.
Neither the Cavaliers nor the Warriors - both are in the NBA Finals now - are going to go the White House for a celebratory visit.
Some star players from both teams were asked about President Donald Trump's decision to disinvite the Eagles to the White House, a visit that was supposed to happen today.
"It's typical of him. I'm not surprised. ... I know no matter who wins this series no one wants to get invited to go." - LeBron on Trump disinviting the Eagles from the White House— Tania Ganguli (@taniaganguli) June 5, 2018
Steph Curry on Trump-Eagles: "Not surprising." On LeBron's statement that neither team would accept a White House invitation. "I agree with Bron."— Michael Lee (@MrMichaelLee) June 5, 2018
Kevin Durant offered his explanation of why Trump disinvited the Eagles: "His photo-op will look bad."— Michael Lee (@MrMichaelLee) June 5, 2018
Draymond Green on the Eagles not going to the White House: "Maybe it's a tradition that needs to stop if everybody's gonna be disinvited" pic.twitter.com/5xgj3daadl— Sports Illustrated (@SInow) June 5, 2018
LeBron James: "Let's not let someone uninviting you from their house take away from their championship... Winning a championship is way bigger than getting invited to the White House, especially with him in it."— Ben Golliver (@BenGolliver) June 5, 2018
Steve Kerr: "The irony is that the Eagles have been nothing but fantastic citizens in their own community. I've been reading about Malcolm Jenkins, Chris Long; these guys are studs, they're amazing. It will be nice when we can just get back to normal - in three years."— Rachel Nichols (@Rachel__Nichols) June 5, 2018
Trump's disinviting a team to the White House wasn't a method reserved for the Eagles. In fact, he told the Warriors they weren't invited after Golden State won the NBA championship last year.
Going to the White House is considered a great honor for a championship team.Stephen Curry is hesitating,therefore invitation is withdrawn!— Donald J. Trump (@realDonaldTrump) September 23, 2017
When the president disinvited the Eagles, he claimed the team disagreed with him insisting that "they proudly stand for the National anthem," although every Eagles player during the 2017 regular season and playoffs stood during the anthem.
While the NFL recently passed a new rule in the hopes to eliminate protests during the national anthem, the NBA actually has a rule that requires players to stand during the playing of the Star-Spangled Banner.
Steph didn't know the NBA had a rule that players must stand for the anthem. He believes if a player wanted to protest during the anthem, there would be a conversation about the goal of that player's protest and the league would be supportive.— Tania Ganguli (@taniaganguli) June 5, 2018
Copyright CSNPhily