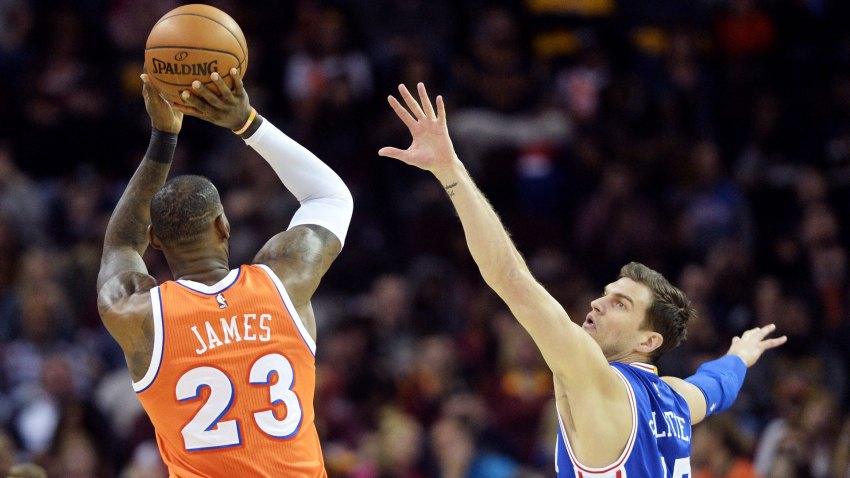 CLEVELAND -- The Sixers arrived in Cleveland the same day the Cavaliers would lose their third straight game and fifth out of their last seven.
Philadelphia 76ers
Complete coverage of the Philadelphia 76ers and their rivals in the NBA from NBC Sports Philadelphia.
The Cavs were ravenous for a win, especially in front of their home crowd. The hobbled Sixers -- all nine of them -- found themselves in the throngs of a playoff-hungry force.
"I think they played at a championship level," Brett Brown said of last season's title victors. "They took their frustrations out on us."
The Cavaliers snapped their skid in a 122-105 domination (see Instant Replay). After 10 lead changes and five ties in the first quarter, the Cavs blew the game open in the second quarter and never relinquished the lead.
The Sixers had no answer. They dropped 32 points behind in the third. The Cavaliers kept the game out of reach until the buzzer sounded.
"Obviously they haven't been playing their best basketball lately and I guess with the playoffs right around the corner, teams like that are going to look to get themselves in playoff form," Nik Stauskas said. "That's what they did today. They're a championship-caliber team and they executed well, they defended well, and we just weren't able to get in there defensively. They didn't feel us today."
The Sixers thought maybe, just maybe, the Cavaliers would show signs of rust coming off a back-to-back in Chicago in which they lost to the Bulls. Quite the opposite. LeBron James called the Cavaliers' energy level "surprising."
"We were hoping they would maybe be not fresh," Dario Saric said. "But they understand in front of their fans they need to get the win because they were struggling the last couple games. Obviously they see that too and we were exactly right target. Half the team is out. Half a team who is playing now is injured. Of course what you can expect."
James led all players with 34 points, nine rebounds and six assists. Kyrie Irving followed with 24 points and nine assists. Richaun Holmes and Timothe Luwawu-Cabarrot both scored 19 points (a career-high for Luwawu-Cabarrot).
The Cavs starters played through the third, even though they were up by 20 points, and James was on the court for the first 1:28 of the fourth. Irving said Tyronn Lue told the starters they would be doing so to keep the team in rhythm.
"Probably if they had been 17-0 during the month of March, we wouldn't have seen them. But they have struggled," Brown said. "I respect they have to find a way to get back in it. You don't just click your heels and jump into an NBA playoff."
The Cavs didn't back down, from start to finish. Just 1:19 into the game, Justin Anderson and Irving got involved in a heated moment after Irving pushed Anderson into the Sixers' bench. Irving was reacting to a previous play where he took exception to Anderson's actions against James in which James hit the ground.
Anderson explained his perspective and brushed off any real hostility in the moment (see video).
"He was just protecting his teammate," Anderson said of Irving. "I think he saw LeBron went down. I back screened and he was turned at a way that when I hit him, I backed into him full speed. I haven't seen the play yet. He fell, and it was kind of weird because I didn't think he was going to fall as big as he was. I think the same or the next possession, I got a loose rebound and Kyrie, he just fouled me.
"But he was just looking out for his teammate I think. It was nothing to argue about. I get it. It wasn't a dirty play on my mind and I don't think it was dirty on his. I was fine and we continued to move on."
Protection is exactly what Irving had in mind when he sent Anderson into the bench.
"Whether it was malicious or not, when I was in the play I caught the tail end of it," Irving said. "I kind of saw Justin kind of lower his shoulder and knock down Bron. That kind of took me out of the play and I was like, 'I hope he doesn't get the basketball again otherwise I've got to do something, I've got to protect my brother.'"
The Sixers and Cavs were both searching for answers in this game, but on opposite ends of the spectrum.
The Sixers were trying to find a solution to competitively finish the season with a roster struck by injuries. They are interested in finding an additional power forward to alleviate the minutes of Dario Saric.
The Cavaliers had to find a way to win to march into the postseason with momentum. They found their solution first.
"We needed this win," Irving said.
Copyright CSNPhily