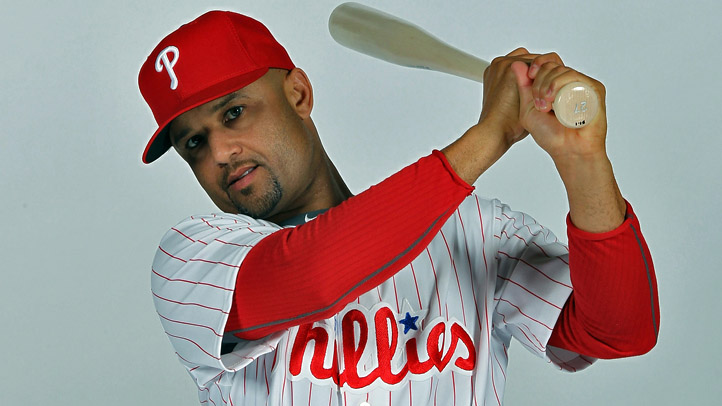 Could Placido Polanco be traded to make way for Aramis Ramirez? Would Ramirez being singed mean the end of Jimmy Rollins in red pinstripes?
With rumors like this being kicked around, the annual Baseball Winter Meetings must be underway in Dallas, Texas.
Of course Twitter is helping take the rumors about the Phillies from the hotel lobby to the world.
Following a report from the Palm Beach Post earlier today that the Phillies are "strong players" for free-agent third baseman Aramis Ramirez comes a report that the Phillies are actively shopping Placido Polanco.

Fox Sports' Ken Rosenthal reports that the Phillies are looking to move Polanco, according to rival general managers, in order to make room for Ramirez.
On top of all this comes a report by CSNPhilly.com that the meeting between the Phillies and Rollins' people didn't go well in part because the 33-year-old shortstop won't back down from his five-year deal demand.
So what does all this mean? Should Phillies fans start looking for No. 16 Ramirez jerseys to replace No. 11 Rollins or No. 27 Polanco attire?
Don't buy too much into any of the rumors says NBC Philadelphia's Howard Eskin.
"The lobby is an incestuous place for a lot of nonsense," says Eskin -- who has attended his share of Winter Meetings.
Only 10 percent of the rumors discussed at the rumor meetings ever come true, estimates Eskin.
So does that mean the Phillies will hold on to the 36-year-old Polanco?
"I think trying to get rid of Polanco is real," said Eskin. "He's got no range; no pop… he's not the same player he was."
Polanco might be at the end of the line so a trade could be in the Phillies interest but they would need a team willing to take on a declining infielder who has only played more than 150 games in a season once in his career (153 in 2009 with the Tigers).
Despite a lackluster season in which he only played in 122 games, Polanco was still voted to start the All-Star game last season -- ahead of Ramirez amongst others -- so he is still held in high regard at least with fans.
And Eskin says the Ramirez rumors could be a ploy to put the pressure on Rollins' people because it's doubtful the Phillies would be willing to sign two 33-year-old infielders -- Ramirez is also 33 -- to long-term deals.
Ramirez just turned down a $16-million options after an impressive 306/.361/.510 with 26 home runs and 93 RBI season for the Cubs so he could be looking for a bigger pay day than the Phillies are looking to spend.
For now it seems the most-reliable rumor to buy into is that the Phillies are pursuing Rollins and willing to dump Polanco.
Should Rollins find that five-year deal elsewhere, rookie Freddy Galvis could be given a shot at short or Michael Martinez and Wilson Valdez could split time at short.
As for third, recent addition Ty Wigginton and a combo of Martinez and Valdez could fill the void if Polanco is sent off.
The most certain development coming out of Dallas Monday was that the Phillies had reportedly agreed to a two-year, $2.5-million deal with left-handed outfielder Laynce Nix.
Nix, 31, could serve as a younger replacement for Raul Ibanez as he platoons in left field with right-handed hitting John Mayberry, Jr.