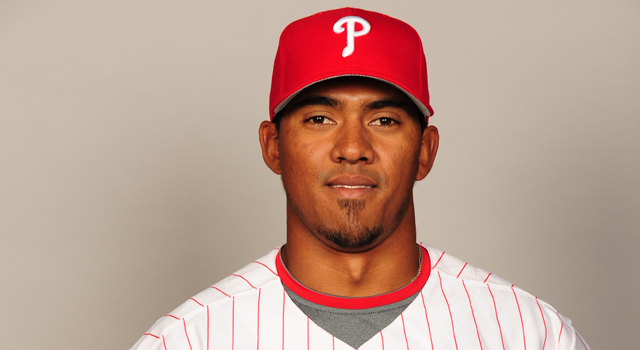 Brett Myers busted right hip could force the Phillies to dig into the farm to find a temporary stop gap in the rotation. But, who will that guy be and better yet will he be able to stay with the big league club?
We are of course making an assumption that the second opinion Myers gets will confirm what the first doctor did -- that the Phils hurler needs what will most likely season-ending surgery.
There are five top candidates for the Phils rotation vacancy. Two of the guys have Major League experience while the other three are greenhorns waiting for their shot at the big time.
First the former major leaguers.
Kyle Kendrick actually pitched decently with the Triple-A Lehigh Valley IronPigs. He is 4-3 with a 4.25 ERA, 34 strikeouts and 20 walks in 53 innings.
The numbers are comparable to what he did with the Phillies in 2007 but he walked too many batters. But, he could still be the front runner to replace Myers -- for now -- because of his Major League experience.
Andrew Carpenter is the other guy who pitched in the big leagues before. The righty started one game earlier this month and only lasted 4.1 innings against the dreadful Nationals but he still earned his first Major League win because of some obscure rule.
He is 2-0 with a 3.64 ERA in 47.1 innings. Those numbers are solid enough to possibly earn him the call despite stinking it up the first chance he got.
The most exciting pitching possibilities are a trio of rookies who have torn through minor league lineups -- Carlos Carrasco, Antonio Bastardo and Vance Worley.
Carrasco almost earned a spot out of Spring Training but hasn't impressed since. His ERA has ballooned to 5.81 while going 0-6 in nine starts with the IronPigs. But, his 4:1 K's to walks ratio could still earn the righty a spot.
Bastardo could be ready for the big time. The southpaw pitched so well this season that he is being compared to New York Mets super-ace Johan Santana.
The Dominican pitcher jumped up to Triple-A after starting the season in Double-A Reading. He combined for a minuscule 1.90 ERA and 0.89 WHIP in 11 games (seven starts).
The biggest draw to bring the 23-year-old up now is his 5:1 K's to walk ratio.
But the biggest unknown of the possible candidates is Worley. The 21-year-old Californian came out of seemingly nowhere this season.
"Wor-Lord" (we just gave him a nickname) is 4-2 with a 2.84 ERA in nine starts at Reading with an impressive 4:1 K's to walks ratio.
He might be unknown to fans but the Phils' brass knows him well. Just last week General Manager Ruben Amaro, Jr. watched Worley throw, according to the Reading Eagle.
The safe bet is that the Phils will bring back Kendrick (before trading him for a hot dog eater to be named later). The hope is that the Phils take a chance and bring up Bastardo or Worley now (just for the possible fan clubs Think Bastardo's -- well you know -- and "Worley's Warlocks" if nothing else).
Follow this story and more on NBC Philadelphia's Twitter feed.