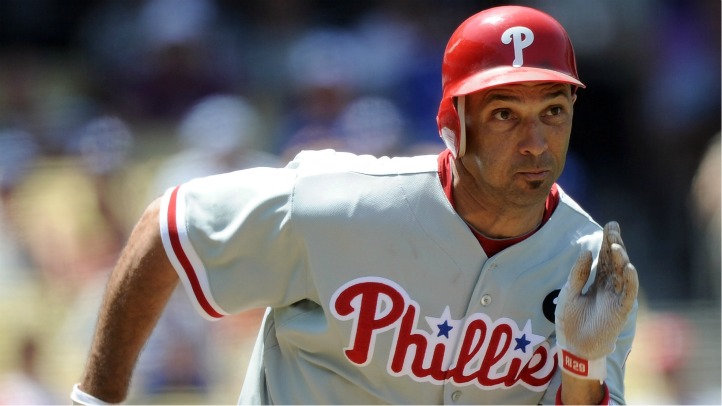 Phillies fans hoping to see a reunion with Jim Thome were disappointed on Thursday afternoon, when it was announced that the veteran slugger and newest member of The 600 Club was traded to the Cleveland Indians, thus ending whatever spurious pipe dreams the Phillies had for landing their one-time slugger.
While the notion of bringing back Thome registered off the nostalgia scale, there was also a tremendous amount of practical utility that came along with re-acquiring him, as he still has enough power (.485 slugging – only Shane Victorino's .546 trumps that) to be a formidable option off the bench, where the Phillies have been devoid of any such hitter so far in 2011, thanks mostly to Ross Gload's ailing hip and .553 OPS.
In light of that, and with a handful of days before the waiver deadline, Ruben Amaro and Company will no doubt be scrambling to find a suitable left handed bat for their bench.
They've already signed and released the left-handed slugger-slash-strikeout artist Jack Cust, so that option is out. And unless Barry Bonds wants to suit up and don the red pinstripes (which would be awesome, by the way), the Phillies will be hard pressed to have a bat sneak through waivers.
That leads to one option: looking right underneath their nose.
Namely, at Raul Ibanez, who is suddenly very expendable in light of John Mayberry's hot streak. The 39-year-old left fielder is having his worst year at the dish in over a decade, and has been frustratingly inconsistent this season, going from cold-to-hot-to-cold again. Perhaps the wear and tear of the long season is taking a toll, or maybe his balky groin has been a bit more balky at some
times than others this year.
Whatever the explanation, maybe what Raul needs is more rest and less exposure to the day-to-day grind. He can still be effective, as evidenced by his hot May and July performance, so perhaps the cure is less at-bats and more rest from now until October.
If Ibanez isn't your cup of tea, the Phillies can turn to their highly touted prospect Domonic Brown, who could not only fill the role of left-handed bat, but would also be a fine pinch runner in a crucial playoff game.
The 23-year-old has been stewing at Triple-A since the Hunter Pence trade, so he would undoubtedly relish the role. And thanks to his better than average plate discipline, could be more suited to the role than others.
His Iron Pigs teammate, Brandon Moss, could also fill that role. Moss, who spent time with both the Pittsburgh Pirates and Boston Red Sox over his career, has 23 home runs for the Triple-A affiliate, so he certainly has power. However, his career .385 slugging percentage at the Big League level is cause for concern when it comes to the 27-year-old getting key at-bats at a crucial moment in the game.
If the Phillies were so inclined to go against the grain, they could give some at-bats to Matt Rizzotti, a hefty, slugging minor leaguer with no glove but a bat that can send balls sailing into the night sky. The 25-year-old has spent the better part of his young career tearing the cover off the ball at the lower levels, and is currently plying his powerful trade in the pitching rich Double-A level, where he has 21 long balls to go along with 30 doubles, a .388 on-base percentage, and an .883 OPS.
Realistically, Rizzotti has zero chance of playing for the Phillies this season, much less in October, but the guy is a favorite of mine, so I would be doing a serious disservice if I didn't give him some ink.
When it comes down to it, the Phillies are an organization that exists very much inside the box, at least when it comes to on-field personnel. Things are done without too much boat rocking, so it's unlikely that the team will stray too far from the conservative approach they've taken so far this season.
If I had to guess, the safe play is Domonic Brown. He's young and talented enough and could fill multiple roles in October, and Charlie Manuel is enough of a player's manager to ensure that nothing changes too drastically, so I expect Raul Ibanez to keep his gig.
Of course, that's only true until it's not true anymore.