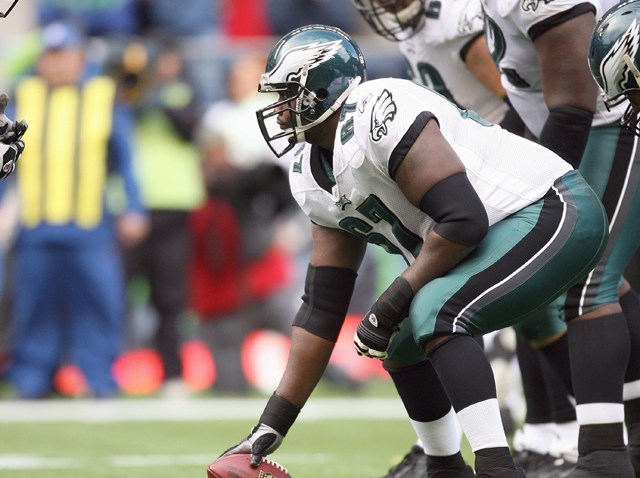 Eagles center Jamaal Jackson is back in the practice fold as he returns from knee surgery.
He is getting some of his reps but can the veteran out of Delaware State settle down an offensive line in desperate need of an anchor?
That won't happen on Friday night in Kansas City when Jackson is set to sit out the Birds third preseason game. The Birds could use Jackson especially after the first unit led by Mike McGlynn at center struggled to give Kevin Kolb much time to do much last week against Cincinnati.
"My goal is to be ready by Opening Day," Jackson said Wednesday.
Jackson spoke about getting back into the groove.
"It was taking a little bit of time, you know, just adjusting to the speed and the tempo," he said after practice. "After that, like you said, it's like riding a bike. Hopefully I can get out there and not have any major rust and just try to play football."
The seven-year veteran has made an impression on his head coach.
"I like what I see," said Andy Reid. "He's moving around well. Strong for what we've asked him to do. We're just taking it nice and slow, but the things we've asked him to do, I think he's looked very well."
The question for Jackson is how far along his knee needs to be to get back into game action. He so far isn't taking part in 11-on-11 drills so it could be fair to ask if he will be ready for the opener versus Green Bay.
Two years ago the Birds were one of the best teams at protecting the QB only allowing 23 sacks in Jon Runyan's and Tra Thomas' final seasons in Eagles green. But that number jumped to 38 last season with the two veteran tackles playing elsewhere.
So it's fair to ask if a healthy Jackson is really what will cure the line or if it's the guys on the outside that need to pick up their games.
Thankfully having Kevin Kolb and his quick release behind center should also help lower the sack total from last season but it's unclear if a the same regular signal caller will also help.
For now fans better hope that the addition of guard Todd Herremans to the beleaguered line will help the offense produce better than last week. And maybe once Jackson's back the line can start to gel.