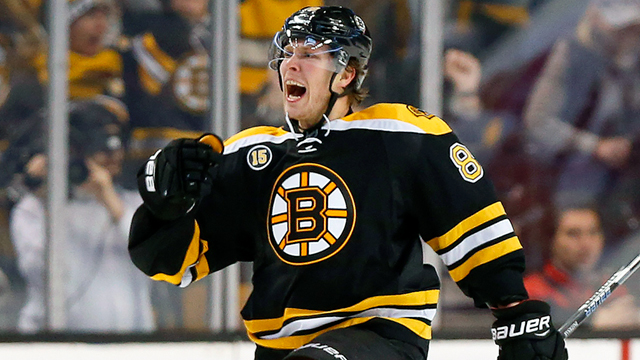 Throughout the offseason, we'll ask questions about the Flyers to our resident hockey analysts and see what they have to say.
Going End to End today are CSNPhilly.com reporters John Boruk, Tom Dougherty, Jordan Hall and Greg Paone.
The topic: Should the Flyers pursue David Pastrnak?
Philadelphia Flyers
Complete coverage of the Philadelphia Flyers and their rivals in the NHL from NBC Sports Philadelphia.
Boruk
Who wants a 21-year-old winger coming off a 34-goal, 70-point season in his first full year in the NHL?
Sure, where do I sign up? I see, right below the names of the league's 31 general managers.
I came across NHL Network analyst Brian Lawton's tweet earlier in the week, when he mentioned that the Bruins may be looking at a trade as a possibility. That may be the case, but the probability is, I think, extremely low.
However, Boston has a history of shipping out top-end talent at a very early age. Phil Kessel was sent to Toronto following a 36-goal season, and Tyler Seguin was part of a blockbuster deal with Dallas in 2013. Both Kessel and Seguin were 21 years of age, which is unimaginable how one organization could part ways with such prized prospects at such an early age. In the case of Seguin, the B's didn't receive nearly the compensation from the Stars to justify the swap. Eventually, an organization has to learn from its previous mistake(s).
With that said, Pastrnak is an RFA and his options are limited: sign with the Bruins or demand a trade to another team. As Bruins Insider for CSN New England Joe Haggerty points out, the Bruins would demand a proven player, who will be under club control for the next several years. Haggerty mentioned Blue Jackets defenseman and Calder Trophy finalist Zach Werenski as an equitable return, or something close. Werenski was drafted eighth overall in 2015. Care to recall who the seventh player selected was? Ivan Provorov. How would you feel trading your future shutdown defenseman for the next decade as the starting point to acquire Pastrnak? Doesn't have much appeal to me. Regardless of how well-stocked the organization is with defensive prospects, Provorov is a special talent and the Flyers don't have another one quite like him.
I've seen this scenario before with other RFAs when Bobby Ryan was in Anaheim, and more recently, with Johnny Gaudreau and the Flames a few years back. Those two players continued their stalemate right up to training camp before hammering out long-term deals. Unlike the NFL, hockey players simply don't like the idea of contract talks becoming a disruption just before the season begins. That's how I think the Pastrnak scenario will eventually play out with him signing a multi-year extension somewhere in the $6-7 million range.
Dougherty
Last Monday afternoon, Lawton, an NHL Network analyst, former player, agent and general manager of the Tampa Bay Lightning, dropped a bombshell into the Twittersphere.
With what I am hearing I would not be surprised if David Pasternak @NHLBruins is traded. #contractproblems @NHLNetwork— Brian Lawton (@brianlawton9) August 14, 2017
And so began the prospect of Boston losing yet another young stud.
Bruins general manager Don Sweeney attempted to throw cold water on the rumors Tuesday. Sweeney told The Boston Globe in an email that he's "not trading Pastrnak."
OK, end of story.
Right?
Until Pastrnak signs his name on a new contract in Boston, we cannot count out the Bruins trading the 21-year-old right winger. Not with the recent history of Beantown.
First, it was Kessel. The Bruins couldn't sign Kessel to an extension after his entry-level deal expired. They traded him to Toronto for two first-round picks and a second-rounder.
Then, it was Seguin. Whether it was immaturity issues with the then-21-year-old Seguin or his underwhelming postseason performance, we don't know why, but the Bruins traded Seguin and he has since become a star in Dallas.
And then there is Dougie Hamilton, who was traded to Calgary after the Bruins failed to sign him long term.
(Interesting nugget: The Bruins drafted Seguin and Hamilton with the two first-round picks acquired in the Kessel trade.)
Back to Pastrnak. Sweeney would be incompetent as a GM to openly suggest trading Pastrnak is an option. The two sides appear to be locked in a stalemate, and for the Bruins, the recent contract extension the Edmonton Oilers signed Leon Draisaitl to is bad news. This could very well go into training camp. The end game could be Pastrnak signing a long-term contract with the Bruins. You think it's a must-do for Sweeney.
The Flyers should absolutely keep tabs on the Pastrnak situation because he would be an ideal fit here. He's a 21-year-old scorer with a 70-point season to his name already. He should only get better. I'm quite the conservative type when it comes to sports, and with the Flyers, believed by many, having the top prospect pipeline in the league, usually, I'd suggest staying on course. But Pastrnak is the type of guy you have to consider paying for.
I don't know what the asking price for Pastrnak would be, but it would cost Ron Hextall a lot. Probably first-round draft picks and prospects. Maybe even an NHL player, too. The thought of adding Pastrnak to a young forward group of Nolan Patrick, Travis Konecny, Oskar Lindblom, Sean Couturier and Jordan Weal is quite enticing, though. If he hits the trade market, the Flyers should be aggressive in pursuit of the Czech winger.
Hall
We're not sure if Pastrnak is being shopped whatsoever.
As Tom pointed out, Sweeney shot down the trade rumor pretty succinctly. And why would Boston even think of dangling Pastrnak on the market? This is a kid that at 20 years old, produced 70 points (34 goals, 36 assists) last season, good to be the second-leading scorer on a playoff team.
So sending Pastrnak out of Beantown would make little sense. Yes, he's still an unresolved RFA, but you'd think the Bruins would do whatever it takes to eventually get something done.
However, if Boston is actually contemplating the trade route here, the Flyers would be silly to not listen or make a call. One purpose of building organizational depth is to create flexibility for ways to improve.
The Flyers now have the prospects to be an attractive player in trade fields, if they so choose. Obviously, you don't want to throw away the farm, and the Flyers won't.
Pastrnak, though, is a stud 21-year-old goal-scoring winger. The Flyers would be naïve to have no interest in such a burgeoning talent.
With that said, this seems like a fantasy. I don't see Pastrnak being anywhere but Boston in 2017-18.
Paone
Absolutely.

The Flyers should be all in on Pastrnak if he really is available and Hextall should be burning up the phone lines to talk Sweeney's ear off.

Pastrnak is exactly what the Flyers need and what they've lacked for years on end now - a young, dynamic winger who can just pile pucks into the net in the blink of an eye.

The Czech native, who just turned 21 this past May, has 59 goals already in his blossoming NHL career. And he's coming off a superb first full campaign as he potted 34 goals in 75 games last season. He's a maven on the power play, too, as he scored 10 while on the man advantage last season.

Just imagine the things Pastrnak could do on the Flyers' top-line wing, which is where he would immediately be slotted. Imagine what he could do for a Flyers team that finished in the bottom third of the league with 2.59 goals per game.

Good thoughts, gang. Good thoughts.

But here's the thing - youthful, ultra-talented scorers like Pastrnak don't just grow on trees. If they did, every general manager in the league would shimmy up the tree themselves and pluck them off the branches in bunches to take back home.

Needless to say, that's not how it works.

The Bruins' price tag to acquire Pastrnak will be steep. And rightfully so. Why should they just give him away?

But the Flyers have the reserves that could raise Sweeney's eyebrows.

The Flyers' farm system is so deep and stocked that it was named the top farm system in the league earlier this week by ESPN. And the fact of the matter is not all of those prospects will ever wear orange and black. The farm system not only helps improve the club from within, but it also gives Hextall and the Flyers the ability to be flexible and tap into those reserves and make exterior moves to help improve the club. This would be one of those times.

What would it take to get Pastrnak south down I-95 to Philadelphia? Just spitballing here, but think a top prospect (maybe two), a high draft pick and a young, NHL-ready player. So let's say Travis Sanheim/Sam Morin (or both), a first-round pick and Weal. Again, just a shot in the dark with a guess there. The Flyers' untouchables should be Provorov (duh), Shayne Gostisbehere, Konecny, Patrick, German Rubtsov and Carter Hart. Anyone else I'd be at least willing to listen on.

Poaching the organizational depth and handing over draft picks isn't Hextall's traditional way of doing business. But there are extenuating circumstances sometimes. And a deal for Pastrnak would be one of those times.
Copyright CSNPhily