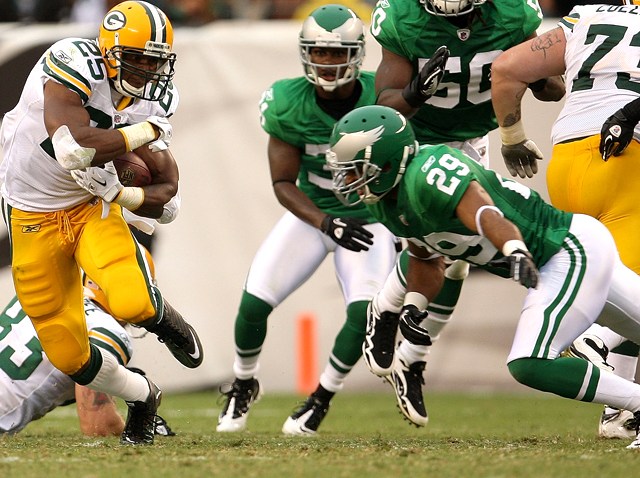 It was a mixed bag for the Eagles 12 rookies Sunday as the Birds dropped their season opener 27-20 to the Packers.
Second-round draft pick Nate Allen immediately made his presence known by picking off Green Bay's Aaron Rodgers in the fourth quarter. The free safety added five tackles and a defended pass to his first NFL stat line.
But don't think Allen was happy with his performance:
"I gave up a few things and we just couldn't get it done," he said.
And even though he was the first Eagles rookie to pick a pass since Eric Allen picked a pass in his first game in 1988.
"It was good, but it doesn't mean anything if you don't get the win," Allen said.
Fellow safety Kurt Coleman also saw a good amount of action Sunday. The seventh-rounder out of Ohio State notched two tackles.
But after the game he wasn't tweeting about football instead focusing on music.
"Cater to you remix I'm feeling it," he tweeted.
No. 1 pick Brandon Graham made his presence known on the defensive line but he was unable to notch his first sack or tackle. And, at points during the game he seemed a bit winded.
The Michigan man realizes he and the rest of the line have room for improvement despite playing well late in the game.
"We aren't going to do anything but get better as a defensive line," Graham said. To see us getting sacks early on, that was a good thing. Great start. We've just got to keep getting better offensively and defensively. We can't have highs and lows like that in a game."
The rest of the rookies didn't do much.
WR Riley Cooper failed to catch a ball in his first NFL game -- same thing for rookie TE Clay Harbor. Rookie defensive backs Trevard Lindley and Jorrick Calvin failed to record any stats.
The only other rookie to suit up who didn't make the stat sheet was third-string QB Mike Kafka. The draft pick out of Northwestern could be the No. 2 QB next week behind Michael Vick if Kevin Kolb is unable to come back from a concussion.
Finally lets deal with all the young guys who didn't even get to suit up. LB Jamar Chaney, LB Keenan Clayton, T Austin Howard and DE Daniel Te'o-Nesheim all landed on the inactive list. Considering how terrible the kick and punt coverage teams looked in the second half don't be surprised if Chaney and/or Clayton suits up next week if for no other reason than to get some fresh legs on special teams. Also with starting linemen Jamaal Jackson likely done for the year and Jason Peters having to leave the game for a bit with a leg injury don't be surprised if Howard gets activated next week versus the Lions in Detroit.