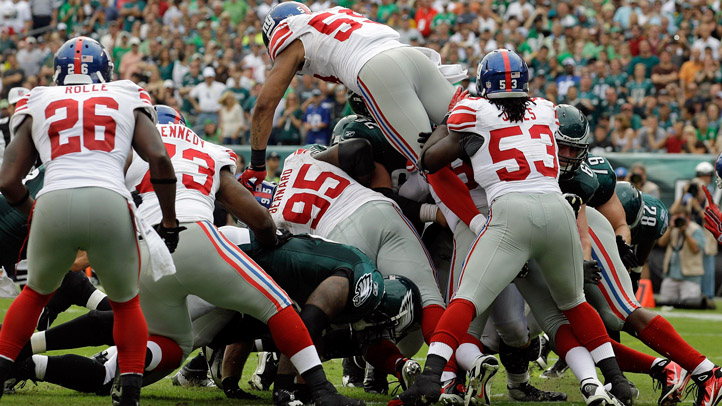 There are some bad signs in this Eagles loss.
The defense has given up eight touchdown passes the last two weeks. The secondary was supposed to be the strength of this team, but you can't hide linebackers and safeties. LB Casey Matthews has been moved around, but teams will try to exploit him, like the Giants did Sunday.
You have to wonder if he will be benched. S Kurt Coleman was benched during the Eagles' 29-16 loss to the Giants in favor of Nate Allen. New defensive coordinator Juan Castillo is learning on the job and he has to find a way to put these new pieces together on defense.
Andy Reid's offensive line couldn't punch it in from the 2-yard line and then the half-foot line on four tries.
Why did he go away from LeSean McCoy there and went with Owen Schmitt?
Then on 4th and 1 at midfield early in the fourth quarter, he went for it, and they lost 3 yards.
He could have punted there and tried pinning the Giants deep with a 2-point lead.
The Giants offense in the 2nd and 3rd quarters, only had 85 yards of total offense.
You have to wonder with Howard Mudd's preference for smaller, more athletic offensive lineman, if this line will suffer in short-yardage situations.