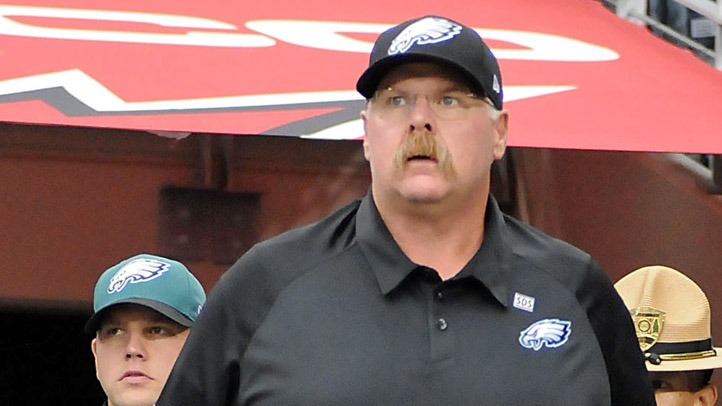 The Eagles season mercifully comes to an end this weekend, so will our football-picking "experts" go out winners or losers?
Looks like the Eagles, and Mike Vick and Andy Reid in likely their final game with the Birds, will need to beat the Giants to make us winners in Week 17.
Three out of five of our "experts" have the Birds winning another close game against the Giants.
First let's hear from a couple of guys who don't think the Birds will win at the Meadowlands.
"At this time of the year, it's all about who needs to win the most," said sports producer Dean. "The Giants have to win. The Birds crash in burn in season finale, Giants 24-Eagles 13."
"I admit it, I'm off the Eagles' bandwagon," said Birds' Nest blogger Ryan Wilson. "I want to be on it for sentimental reasons, and this team could beat a just-as-hapless Giants team Sunday, we just don't think they will. New York, 20-17."
Sales guys Corey said sentimentality could be just the reason the Eagles will win.
"I believe the Eagles will try to win one for the Gipper on Sunday -- play hard and with purpose -- to end the Eagles career for Reid with a win. And their 2013 Draft position will suffer as a result. Eagles 23, Giants 20."
I actually agree with Corey. I think the Birds don't want to punk Big Red. I know many fans (and the press) hate how Reid never answers questions and refuses to really talk about his team, but for his players it means the world that their leader will never throw them under the bus. Also, let's remember that Reid's team are 8-2 (including playoffs) against the G-Men since the start of the 2008 season.
Vick plays well enough and the defense plays better as the Birds finish at 5-11 after a 27-13 win.
But maybe the way that fans are feeling about this game is best summed up by Birds' Nest blogger Brian Solomon: "What the heck, Eagles win 23-22."
There is just a level of uncertainty with this team. Seems like graphics guy Derek at least found something he feels more certain about. "I'm going for the sure thing," he said. "Professor Plum, in the kitchen, with the rope!"
What do you think will happen Sunday?