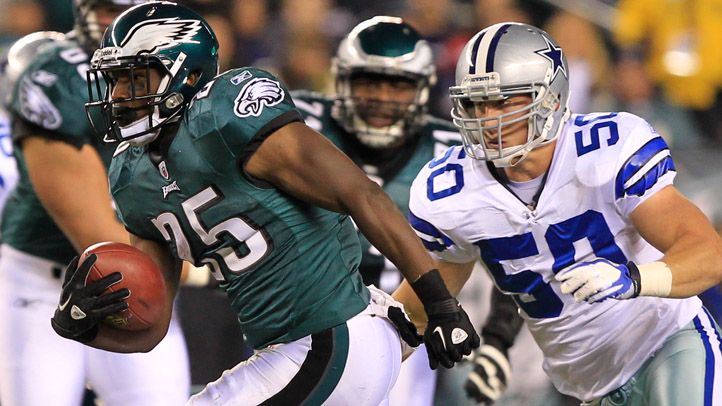 The Eagles enter Dallas Sunday with a slim chance still of winning the NFC East. But a slim chance is better than no chance and Cowboys owner Jerry Jones kept telling people this week that he is afraid of the 6-8 Eagles.
Well Jerry, nearly 86 percent of our football-picking "Experts" think the 8-6 Boys need be afraid of the Birds.
"I believe Cowboys owner Jerry Jones is right, they should fear the Eagles," said photojournalist Rich. "The (Eagles) team is finally healthy and the D is beginning to grasp the scheme. The Birds win going away 37-21."
News anchor Tim Lake also sees a big win with the Birds soaring to a 34-17 victory.
"I smell a blowout and many, many camera shots of Jerry Jones near tears in the owner's box. E-A-G-L-E-S! Eagles."
Birds Nest blogger Drew Magary sees Dallas QB Tony Romo as the man who will be left in tears by this game.
"This is the perfect setup for one of Tony Romo's patented choke jobs. It's really just a matter of how it's all gonna go down. Is Romo gonna throw eight picks in the final six minutes? Will Romo take a sack with no timeouts left? Or will Romo opt for a more subtle choke, like when he overthrew Miles Austin against the Giants? I can't wait to find out. It's like an early Christmas gift. SO EXCITING. EAGLES 33, COWBOYS 30."
Fellow Birds Nest blogger Brian Solomon doesn't give as much insight.
"27-23 Eagles. Because what the hell."
I have a little more reasoning going into my decision as why the Eagles will win this one 33-24. It's because they built a team in the off-season to beat high-flying NFC East teams like the Cowboys (and dare I say Packers). Even with Asante Samuel on the sideline, the Eagles still have the secondary to stop the vaunted Dallas wideouts, making this a game of running backs and tight ends. I have LeSean McCoy easily over Felix Jones and Jason Witten over Brent Celek but the difference between the running backs is greater than the tight ends -- advantage Eagles.
But not everyone is confident that even an Eagles win would mean much here.
"Eagles will beat the Cowboys 21-17," said reporter Tim Furlong. "But alas, it won't matter as the Giants are going to beat the Jets before their game even starts. How many days until pitchers and catchers hit Clearwater?"
Ouch!
At least Tim picked the Birds. Same can't be said for social media guy Lou.
"I expect the Giants to beat the Jets, rendering this game meaningless for the Birds. But I still see an entertaining shootout with the Cowboys coming out on top 34-27."
The time's yours in the comments.