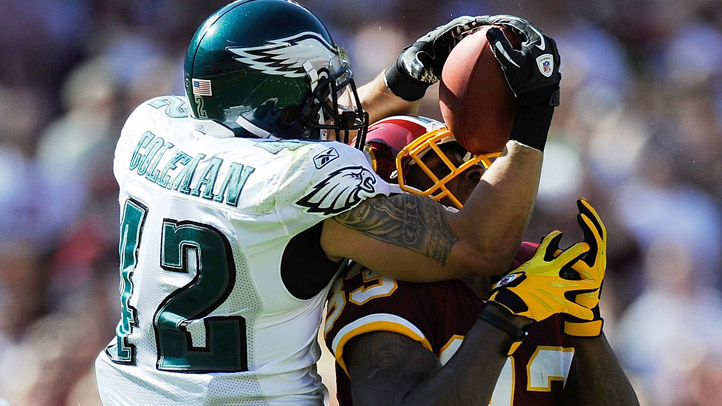 Kurt Coleman made the best of his return to the Eagles starting lineup Sunday as he picked off three passes to help a rejuvenated Eagles defense hold off the first-place Redskins 20-13 to end Philly's four-game losing streak.
Coleman, who started in place of injured S Jarrad Page, picked off Rex Grossman three times and fellow safety Nate Allen added a pick of his own as the Eagles won the turnover battle 4:2 in their first win in a month. It was the first time since 2008 that both starting Eagles safeties had picks in the same game and Coleman was the first Eagle since 1966 with three picks in a game.
Coleman also led the Eagles defense with seven tackles.
The Eagles raced out to a 20-0 first half lead before holding on for the seven-point victory.
LeSean McCoy led the offense with 139 total yards including 126 yards (his third 100-yard game of the season) and a touchdown on 28 carries.
Michael Vick threw for 237 yards, one TD and an INT on 18-for-31 passing (79.6 passer rating). He also added 54 yards on the ground to become the first NFL quarterback ever to amass 5,000-plus rushing yards.
But Vick left the game for two plays in the third with what at first appeared like a head injury but turned out to be a case of him getting dirt in his helmet, the team said. In his absence Vince Young made his underwhelming debut throwing an interception on his first pass.
Luckily Coleman picked off Grossman's next pass to give the ball back to the Birds. Grossman was pulled for John Beck after throwing another interception to Coleman later in the quarter.
The Eagles defense held Washington to just 42 rushing yards and to 287 total yards.
Jeremy Maclin led all Philly receivers with his second 100-yard game of the season -- hauling in five passes for 101 yards. But Brent Celek had a breakthrough game hauling in four passes for 42 yards and a TD. The Birds tight end also made a juggling grab that is certainly going to make plenty of highlight reels.
But all wasn't great for the Eagles. They again struggled in the red zone only punching home a TD twice in five tries inside the 20.
Andy Reid's Birds enter their Bye Week 2-4 with the Cowboys looming on Sunday Night Football in two weeks.