What to Know
Police continue to search for four young men who went missing in Bucks County last week.
Cosmo DiNardo, the person of interest in the case, was arrested a second time Wednesday.
DiNardo is accused of trying to sell the car of Tom Meo, one of the missing men.
UPDATE: The Bucks County District Attorney announced human remains were found during the search for the four missing men. One set of remains was identified as 19-year-old Dean Finocchiaro, of Middletown Township. New details HERE >>

---
The man named a person of interest in the disappearance of four young men in Bucks County, Pennsylvania, was arrested Wednesday for allegedly stealing and trying to sell a car owned by one of the missing men, the county's top prosecutor said.
The announcement of Cosmo DiNardo's arrest marks the second time in recent days he's been arrested since the missing persons investigation began.

District Attorney Matt Weintraub said DiNardo, 20, tried to sell Tom Meo's 1996 Nissan Maxima for $500 after he went missing Friday. The car was found on property DiNardo's family owns in Solebury Township.
Meo, a diabetic, left his insulin kit and glucose meter in the vehicle, Bucks County District Attorney Matt Weintraub said. His family told the DA he would be at risk of going into diabetic shock without the medical supplies.
DiNardo, who is from Bensalem, has been charged with receiving stolen property and was arraigned via video Wednesday afternoon by a district court judge. His bail is set at $5 million cash.
Wearing a dark blue tank top, black shorts, and silver shackles, DiNardo shuffled alongside two officers — his head down — as he was led into the Bucks County jail Wednesday evening.
It's the second time he's been inside the lockup this week. DiNardo was arrested Monday on an unrelated weapons charge but left the Bucks County jail Tuesday night after his father, Antonio DiNardo, posted 10 percent of $1 million bail.
A family lawyer released a statement Wednesday on behalf of DiNardo's parents.
"As parents, Mr. and Mrs. DiNardo sympathize with the parents and families of the missing young men and they are cooperating in every way possible with the investigation being conducted by law enforcement," the lawyer wrote.
U.S. & World
Stories that affect your life across the U.S. and around the world.
High-powered attorney Fortunato Perri Jr., who has represented several local celebrities, including Philadelphia hip hop artist Beanie Sigel, was also hired to represent DiNardo in court.

According to an affidavit obtained by NBC10, DiNardo was accused of possessing a 20-gauge shotgun and ammunition in February despite being barred from owning a firearm due to a history of mental illness that included an involuntary commitment. A district judge dismissed the charge in May, but the district attorney authorized for it to be refiled on Monday.
DiNardo was named a person of interest in the disappearance of Mark Sturgis, 22, of Pennsburg, Montgomery County; 21-year-old Meo, of Plumstead Township; 19-year-old Dean Finocchiaro, of Middletown Township; and 19-year-old Jimi Tar Patrick, of Newtown Township after they all vanished last week.
The missing men and DiNardo all appear to know one another, prosecutors said.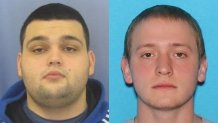 According to Sturgis' father, Mark Potash, Sturgis and Meo are longtime friends who work in construction for him. Finocchiaro is a mutual friend of theirs, Potash said. Investigators began looking at DiNardo after they received tips indicating he was seen with the men shortly before they went missing.
Patrick went missing on Wednesday, July 5. He has not contacted family or friends or shown up for work, police said. Finocchiaro was last seen Friday around 6:30 p.m. getting into a vehicle on Hampton Drive.
According to a newly obtained criminal complaint, Meo's mother reported him missing Saturday. Meo's girlfriend said she last texted him Friday at 6:53 p.m. and didn't hear from him after.
Sturgis, who was last seen leaving his home on Walt Road in Pennsburg, around 6 p.m. Friday, told his father he was going to meet with Meo in Doylestown.
On Sunday at 2:10 a.m., Sturgis' vehicle was found in the area of Peddler's Village in Buckingham Township, about two miles away from a DiNardo family home on Aquetong Road.
Less than two hours later, Meo's car was discovered at the DiNardo home. Detectives say they found Meo's car keys hanging up on the wall of the garage. They also found Meo's diabetic supplies inside the vehicle.
On Sunday at 4:30 p.m., Bucks County detectives interviewed DiNardo's friend whose identity police are withholding. The friend told police DiNardo had called him Saturday at 5 p.m. The two then met on Bristol and Galloway roads in Bensalem where DiNardo allegedly offered to sell Meo's Nissan Maxima to him for $500, the criminal complaint reads.

Police also interviewed DiNardo Sunday. DiNardo allegedly told detectives he was driving a silver Ford pickup truck Friday night.
A search Solebury Township police mobile license plate reader data found DiNardo's Ford pickup truck was on 2541 Street Road in Solebury Township Friday at 7:49 p.m. Within a few seconds, the license plate reader also captured Meo's vehicle at the same location.
The location where both vehicles were captured is within two miles away of the DiNardo home and less than one mile away from where Sturgis' vehicle was found.
Based on the information, investigators say they had probable cause that DiNardo did "unlawfully take and retain control" of Meo's vehicle.
The revelations come as investigators hone in on new evidence described by Weintraub as "valuable."
No human remains were found as dozens of law enforcement members scoured another one of the DiNardo family's properties, a sprawling 90-acre farm, along Lower York Road in Solebury Township about 30 miles north of Philadelphia, on foot. Investigators also used heavy equipment to dig on the property and deployed canines to search for clues they hope will lead them to the missing men.
Susan Coleman, a woman who lives near the farm, told NBC10's Deanna Durante that she heard gunshots from around the property on Saturday — hours after Meo and others were last seen.
"We heard a series of blasts, they were loud," Coleman said.
Coleman said she was sitting outside with her husband when she heard the gunfire but at first didn't think much of it since people go hunting in the area. But, she decided to talk to investigators after hearing what sounded like more gunshots then yelling and commotion.
[PHOTOS]Timeline: Murder of Four Young Men in Bucks County, Pennsylvania
Officials said they were chasing "incredibly hot" leads as they spent much of the week focused on the agrarian property. Law enforcement sources said there are six sites on the ground investigators dug up first.
Some 50 people actively searched for clues, Weintraub said. Montgomery County lent police cadets to aid in the investigation.
Weintraub said the search has been "really, really rough on everybody involved" due to heat, humidity and the property's expanse.
Weintraub has described the search an "all hands on deck" situation with the FBI, state police and five local law enforcement agencies assisting with the case. He also said that based on information that he "can't share," foul play was likely involved in the disappearance of the young men.
Multiple sources told NBC10 that cellphone tower records in the area have been subpoenaed to see if any of the missing men used their phones in the area over the weekend.
Sources also tell NBC10 a grand jury has been convened and that multiple people, including DiNardo's parents, were issued subpoenaes. Weintraub said he was prohibited by law from confirming such information.

Weintraub continued to encourage the public to provide information that could aid in the investigation.
Patrick stands 5 feet 10 inches tall and weighs around 150 pounds. He was last seen wearing gray shorts and a polo shirt with a multi-colored design.
Finocchiaro has brown hair and hazel eyes, standing 5 feet 9 inches tall and weighing 150 pounds.
Sturgis stands 6 feet 1 inch tall and weighs 240 pounds with black hair and a black beard.
Meo stands 5 feet 5 inches tall and weighs 140 pounds with blond hair and blue eyes. He has diabetes and his diabetic kit was found in the car.
The missing men's photos have begun to appear on digital billboards along highways in the area.

Family members continued to keep vigil Wednesday at the search site, prosecutors said. Asked if the four missing men could still be alive, Weintraub said, "I think it's very important to hang on to hope."
About 50 students, faculty and staff also gathered at a chapel at Loyola University in Maryland where Patrick was a rising sophomore to pray for him and the three other missing men. Director of Campus Ministry Sean Bray told the Baltimore Sun the group wanted to honor the request of Patrick's grandmother to "storm heaven with our prayers for Jimi's safe return."
Police ask anyone with information to call 215-297-8201 or submit a tip online.
---
NBC10 journalists Deanna Durante, Denise Nakano, Pamela Osborne and Lauren Mayk contributed to this report.

Copyright AP - Associated Press