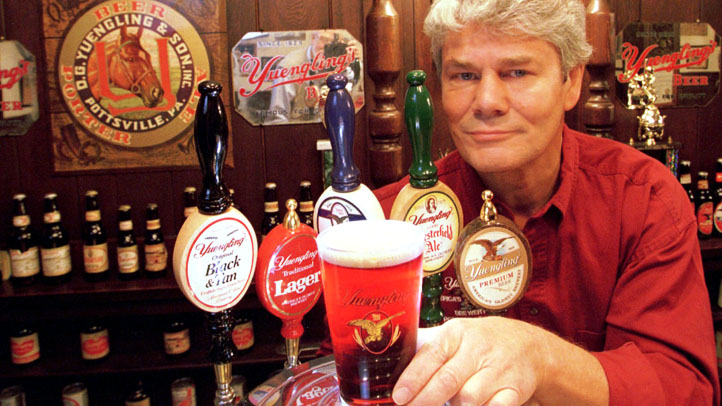 The head of D.G. Yuengling and Son Inc. on Monday called for the passage of a "right to work" law in Pennsylvania that could dilute membership in labor unions and said he wanted retailers' interests protected in any expansion of beer sales.
Dick Yuengling Jr. said at a Pennsylvania Press Club appearance that the state would attract more businesses if it adopted a right-to-work policy that would make it more difficult for unions to organize.
Right-to-work bills prohibit requirements that employees join a union or pay union dues or fees as a condition of employment. Such bills have languished in the Republican-controlled Legislature, while critics contend the real intent -- to bleed unions of money and bargaining power -- would destroy the middle class.
Local
Breaking news and the stories that matter to your neighborhood.
Yuengling also had other implicit criticisms of the business climate in Pennsylvania, including wanting to see a reduction in the capital stock and franchise tax.
"How many times do you have to be taxed on the same dollar?" said Yuengling, whose ancestor founded the Pottsville-based brewer in 1829. He began working there in 1958.
Gov. Tom Corbett has not pressed for right-to-work laws, and has said that he does not believe there is a strong will in the Legislature to pass it.
Nonetheless, Yuengling called Corbett "a great man" who's trying to do the right thing.
Yuengling said Corbett's office contacted him "right away" after he was quoted saying his company might build its next brewery in another state. The firm recently expanded sales into a 14th state, Ohio, and it now has about 280 employees.
Asked about a plan by Corbett and Republican allies to push for privatization of the state liquor system, Yuengling said his concern was the fate of the small businesses that retail beer.
"They made our company in the state of Pennsylvania, and I don't want to see them hurt," Yuengling said.
Yuengling was included earlier this year on a Forbes magazine list of billionaires, but he insisted Monday that he is not worth a billion dollars.
"We're not for sale," he said. "Nobody's going to offer me a billion dollars for it, and if they (did), I wouldn't take it."
Asked about Yuengling's first foray into NASCAR, making its Light Lager brand the sponsor of Ty Dillon's No. 3 Chevrolet next year, Yuengling described it as an experiment.
"It's not cheap. It's very expensive, and the talk about it has been phenomenal," he said. "We're going to see whether this is a good thing or not."
Copyright AP - Associated Press