Sean Michael Kratz, the second suspect charged in the slayings of four young men on a Bucks County farm, has been transferred from the Bucks County prison to the Northampton County prison, according to online records.
Bucks County District Court Judge Maggie Snow set no bail and ordered that Kratz and Cosmo DiNardo, the first suspect, be held in separate prisons out of concern for their safety, at an arraignment on July 14.
Their original preliminary hearing was delayed from July 31 until September 7 at the Bucks County Courthouse.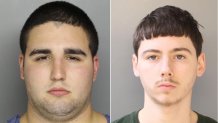 DiNardo and Kratz, described as cousins in the criminal affadavit, are charged in the slayings of four men between July 5 and July 7 on the 70-acre DiNardo family farm in Solebury Township. Kratz is charged for three of the murders, while DiNardo faces charges for all four.
DiNardo, 20, is charged with all four homicides and 20 other counts, including abuse of corpse, conspiracy and robbery, according to court documents. Kratz, 20, faces 20 counts, including three of criminal homicide.

At their arraignment, both men entered pleas of not guilty.
[PHOTOS]Timeline: Murder of Four Young Men in Bucks County, Pennsylvania
On July 13, in what his attorney called a "full confession," DiNardo admitted to authorities that he'd been involved in killing all four men, who were identified as Dean Finocchiaro, 19, of Middletown Township; Mark Sturgis, 22, of Pennsburg, Montgomery County; Tom Meo, 21, of Plumstead Township; and Jimi Taro Patrick, 19, of Newtown Township.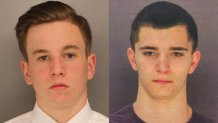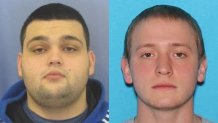 "We have brought four young men one step closer to their loved ones so that they can rest in peace," Bucks County District Attorney Matthew Weintraub said.
Patrick was shot to death by DiNardo on July 5 as the two were alone on the farm, according to the affadavit. DiNardo told authorities that he and Patrick had arranged to meet on the farm for a marijuana drug deal, but once Patrick had arrived, DiNardo fatally shot him instead. He said he used a backhoe to dig the hole in which he buried Patrick's body.
The other three victims were killed July 7 in two separate incidents at the farm, both of which were under the guise of a drug deal, according to the affadavit.
Kratz and DiNardo had planned to rob Finocchiaro after luring him to the farm, but he was shot in the head by Kratz, the affadavit said. Later in the day, the two met up with Sturgis and Meo and shot them to death in a similarly sudden manner, the charging document said.
After killing Finocchiaro, Sturgis and Meo, DiNardo and Kratz put their bodies into a large container — what DiNardo called a "pig roaster" — and burned them using gasoline, according to the affidavit.

DiNardo's lawyer said his client had admitted to the killings and was cooperating with investigators. Kratz was arrested later the same day, authorities said.
Copyright AP - Associated Press