Philadelphia is prepping for the need for many more hospital beds in the coming weeks, but has not been getting anywhere with the owner of closed Hahnemann Hospital in Center City, according to Managing Director Brian Abernathy.
The hospital, which closed last year, is located at North Broad and Vine streets and had more than 400 beds staffed in years past. It has been identified as a potential pop-up hospital to hold COVID-19 patients in quarantine and recovery during the coronavirus outbreak.
Hahnemann's owner, Joel Freedman, first asked that the city purchase the building at fair market value, which the city cannot afford, Abernathy said Tuesday.
Freedman then asked that the city lease the building for 12 months before demanding the city pay for a six-month lease, Abernathy said.
That length of time was doable, Abernathy said, but what Freedman was asking for in rent is not.
There Are Counties in Pa. and N.J. That Have Fewer Than 15 Hospital Beds Per 10,000 People
Many counties throughout Pennsylvania, New Jersey and Delaware don't have the hospital bed capacity to handle the expected surge of COVID19-infected patients, especially those who need treatment in an intensive care unit.
Source: 2018 Medicare Cost Reports, U.S. Census Bureau.
"We're continuing to try and negotiate and find a path forward," he said.
Local
Breaking news and the stories that matter to your neighborhood.
A spokesman for Freedman said the owner offered to lease the building to the city for $70 per room per night. That's about the price of a night at the Microtel Inn & Suites by Wyndham near the Philadelphia Airport.
If the city used 450 rooms per night for COVID-19 patients, that would come to $31,500 daily, or about $5.7 million for six months.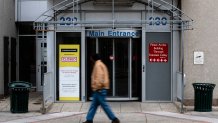 "We're going to continue to work with the city to find a reasonable and equitable solution," Freedman's spokesman, Sam Singer, told NBC10 on Tuesday afternoon. "We just think they're unaware of the realities of the market."
Abernathy said Freedman's negotiating position did not seem to take into account the dire situation that the city and country are in, as COVID-19 cases continue to rise.
"He is looking at this as a business transaction rather than providing an imminent and important need for our city and our residents," Abernathy said. "The owner, Mr. Freedman, was difficult to work with at times when he was the owner of the hospital, and he is still difficult to work with as the owner of the shuttered hospital."
The city is exploring additional options for spaces to hold more hospital beds. Those include hotel sites and former dormitory-style living arrangements.
Freedman's spokesman said he didn't think Abernathy struck the right tone at the press conference.
"We want the city of Philadelphia to take it. We're going to continue to work with the city," Singer said. "We just think they spoke out of turn without knowing the facts."
He pointed to a lease completed between the state of California and St. Vincent Medical Center in downtown Los Angeles that Singer said was for $266 per room per night.
"That's an absolute apples-to-apples example of the market," Singer said.
Hahnemann operated in Philadelphia for nearly 170 years and had nearly 500 hospital beds at one point. The hospital was founded in 1848 and recently served as a training facility for medical students and residents from Drexel University.
Freedman, a Los Angeles-based investor, owns the building through an entity called American Academic Health System and a subsidiary of that entity, Philadelphia Academic Health System.
Abernathy noted that the city could not afford to take ownership of the property through eminent domain because it would require the purchase to be fair market value.